Usually, people associate yellow school busses with flashbacks to the loud rides to and from school - but this man had a different vision. When Michael Talley saw this rusty old bus for sale, he decided to transform it into something completely different. With a lot of work and creativity, he embarked on an epic journey that was well worth the struggles and setbacks. Where most people would only see trash, Michael saw his dream house, and after getting to work this ingenious man was able to pull off a surprising and amazing feat! His story will no doubt inspire you as you see how some of the most amazing things can be built in the most unlikely of places.
1. Jumping Into A New Line Of Work
When Michael Talley decided to buy a school bus from an online auction, he had no idea what he was getting himself into. Talley was living in Austin, Texas, working as a graphic designer, and he was growing tired of paying $1,200 for his studio apartment each month.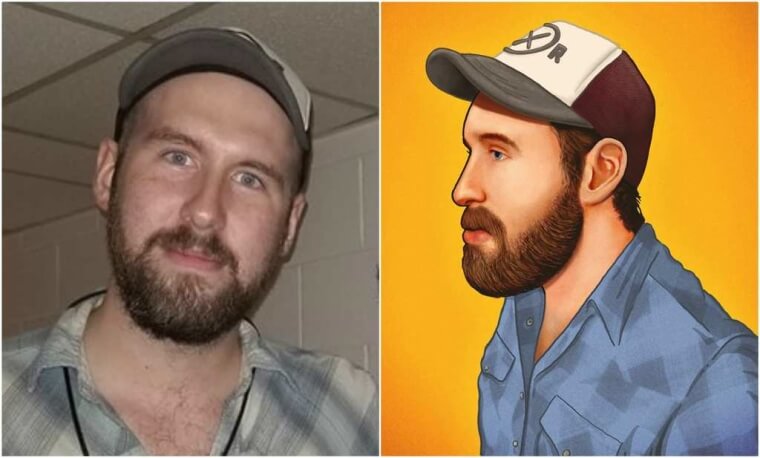 Talley couldn't continue to afford this lifestyle, so he had to find another option. The tiny house trend was becoming more popular, and he decided to take the plunge. Talley would save so much money, and as a designer, he had so many ideas for his tiny home. 
2. Decision Of A Lifetime
One day, Talley had a lightbulb moment; he realized that the perfect structure to transform into a house would be a school bus. There were already four walls and a roof, so he thought it would be easy to put together a home in no time, but that was not the case.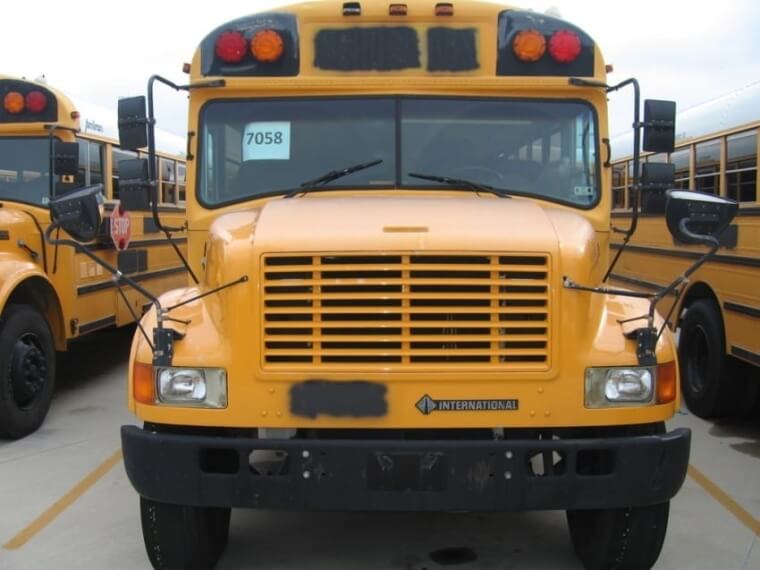 When he looks back on it now, Talley feels foolish because he thought this would be an easy job. However, he had always dreamed of building a tiny mobile home that he could use to travel around the country, so he started researching busses. 
3. Bargain Of The Century
When Talley began his search for busses, he didn't think he would find one so quickly. While scouring the internet, he found an auction on PublicSurplus.com with ten school busses available. Not many people knew that the Austin School District was selling these vehicles, so there weren't many bidders.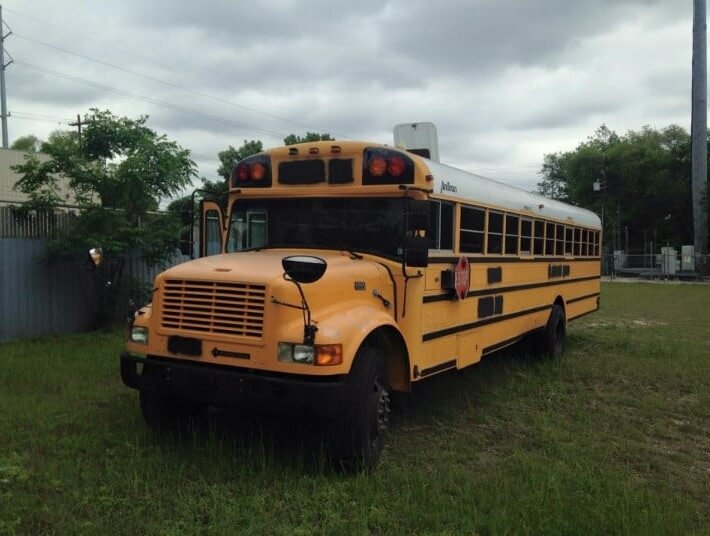 Talley got the bargain of the century and bought the bus for just $2,200, which is much less than a used car. Most people would have purchased more than one for that price, but Talley was satisfied with just one bus. He couldn't believe how cheap the bus was, and he was excited to move onto the next step of his journey. 
4. Moving Into A Tent
In order to commit to his new project, Talley decided to move out of his apartment because he needed to save the money for his bus transformation. His small studio apartment was costing him $1,200 a month for rent, which could have been put towards the project instead.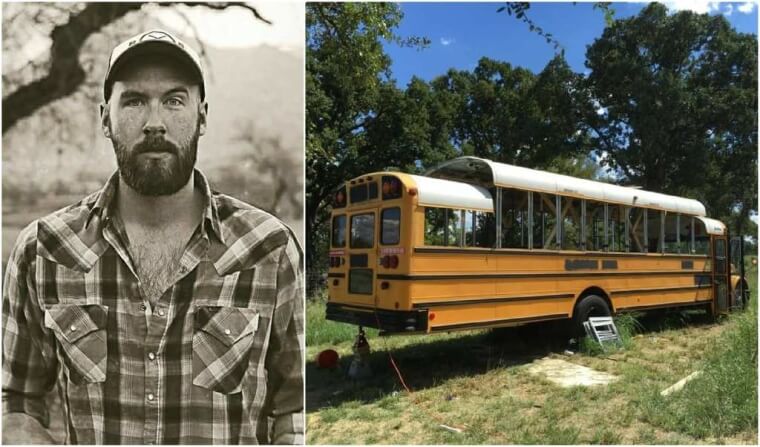 Although it was a bit of a challenge, Talley moved into a tent so that all of his money could go towards renovating his tiny home. Instead of being close to work, he now had a 40-minute commute each way, but it was worth the money he saved. Every penny counted for this major project. 
5. A Rough Year To Make Him Stronger
Throughout the time Talley was working on his bus, he experienced many changes in his personal life. Within one year, he broke up with his girlfriend, lost his job, and his grandfather passed away. During these challenging times, he stayed busy with the renovations and put all his effort into that.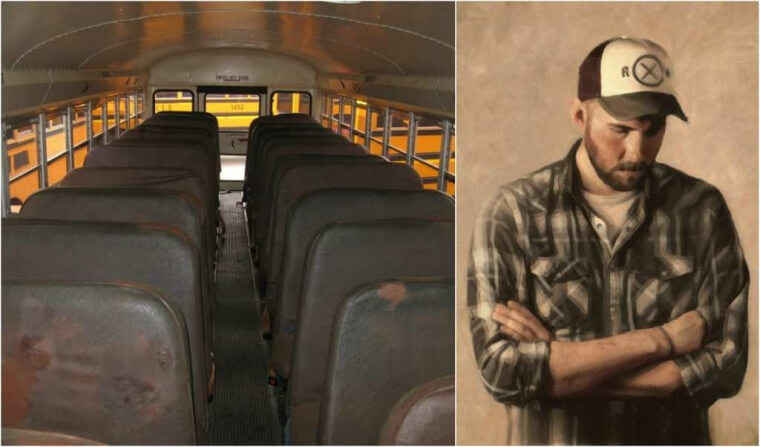 At times he felt down and alone, but he knew he was working towards a greater goal. The bus helped Talley persevere through the most difficult times in his life, and he is grateful he began this project at the right time. No matter what roadblocks he hit with the bus, he always found a solution. 
6. Back To The Basics
Talley had taken on a major task, and the odds were against him, but he wasn't going to quit. Unlike his original idea, he quickly realized this would be a lot of work and started looking at the bus as just a frame for what he wanted to do. He had never built anything before, so it was a lot to think about.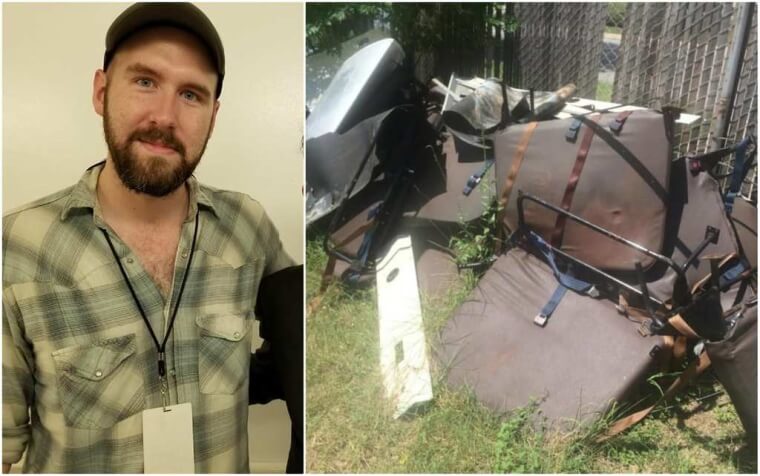 Talley said he spent many nights lying awake thinking about the design and how he was going to build everything. His brain was always thinking of new ideas, and he couldn't rest peacefully until he had the final layout for his home. It was a daunting project, but he was ready to begin. 
7. Stripping The Inside Of The Bus
To start the process, Talley had to remove everything from the inside of the bus. He wanted it to be a blank canvas, so he began taking out the seats and stripping the inside of the bus. His stepdad helped him remove all of the bolts from under the bus, which took a long time.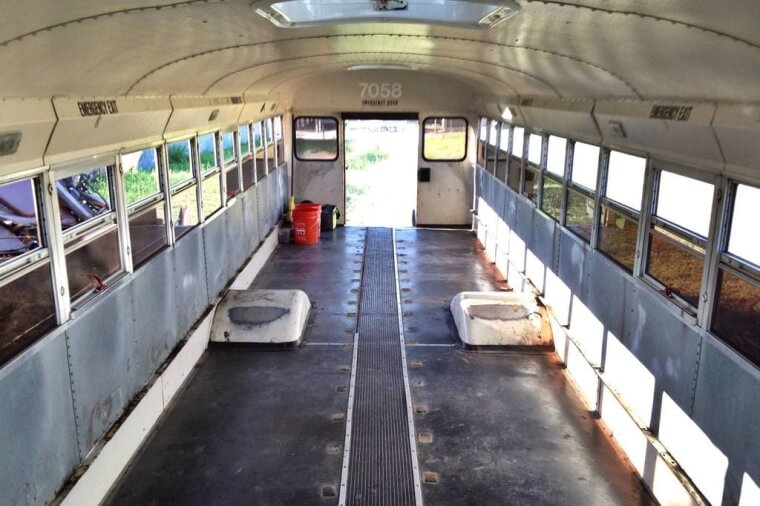 Talley later admitted that the process would have been easier with an angled grinder, but at the beginning of the project, he was still afraid of power tools. After this step, it was the first time Talley saw the full potential of the bus, and he was excited to continue working. 
8. One Of Many Mistakes
Once he removed the seats and cleared out the floor, it was time to move onto the ceilings. Since Talley had never heard of an impact drill, he had an incredibly challenging time taking off the ceilings paneling. It took him much longer than he had expected.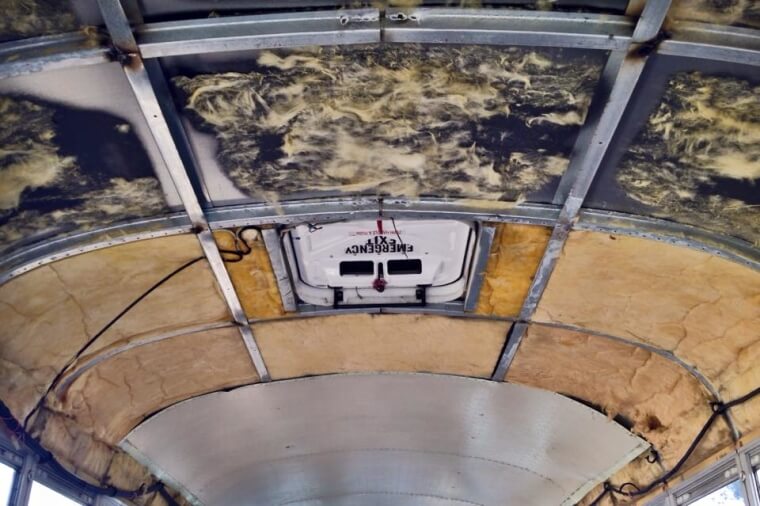 After he finally got the panels off, Talley removed the old insulation. He later regretted that decision because the previous insulation was in good condition, and it would have saved him a lot of trouble in the long run. This project was turning into one long learning process. 
9. Too Tall To Ride The Bus
Talley ran into his first problem when he realized he was too tall for the bus. He thought he made a huge mistake when he realized he was five inches taller than the bus ceiling. When he stepped onto the bus, he had to hunch over, and he didn't know what he was going to do to fix the problem.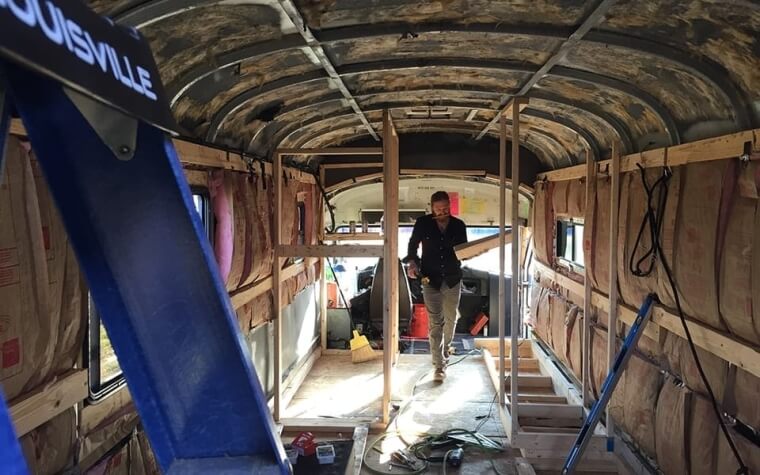 Talley is 6'6", but the inside of the bus from floor to ceiling is 6'1," which meant he was going to have to make massive changes to the structure. It was an unexpected task, but Talley was going to find a way to work around the problem. He resorted to Youtube tutorials and figured he would need to literally raise the roof. 
10. Cutting The Bus In Half
Because he was so tall and needed to add some room to live on the bus comfortably, Talley had to raise the roof. With the help of some friends, he cut the roof in half in two places. This was nerve-racking because they nearly destroyed the bus in the process, but it was the only thing they could do.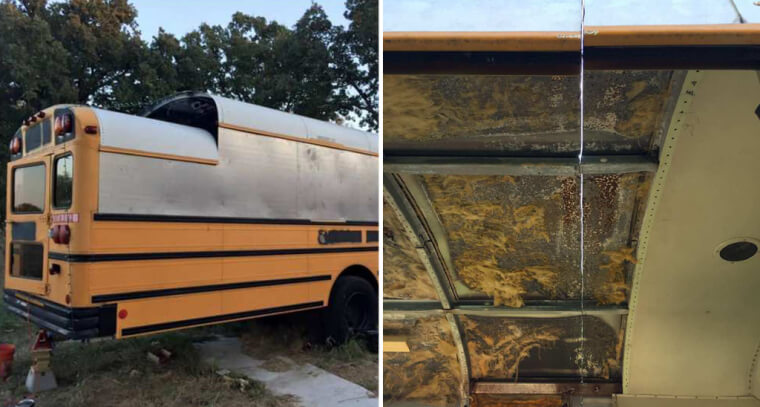 Talley had custom metal sleeves made to replace the old ceiling, and they added 20 inches to the height of the bus. Initially, Talley wanted to add an extra 24 inches in size, but his friends thought that was too ambitious and talked him out of the additional four inches. 
11. Everybody Raise The Roof
Since he was documenting the process online, people would constantly make jokes about "raising the roof." But jokes aside, it was not an easy process. His original idea was to add two feet of space with the new ceiling, but his friends talked him out of that idea because it was too challenging.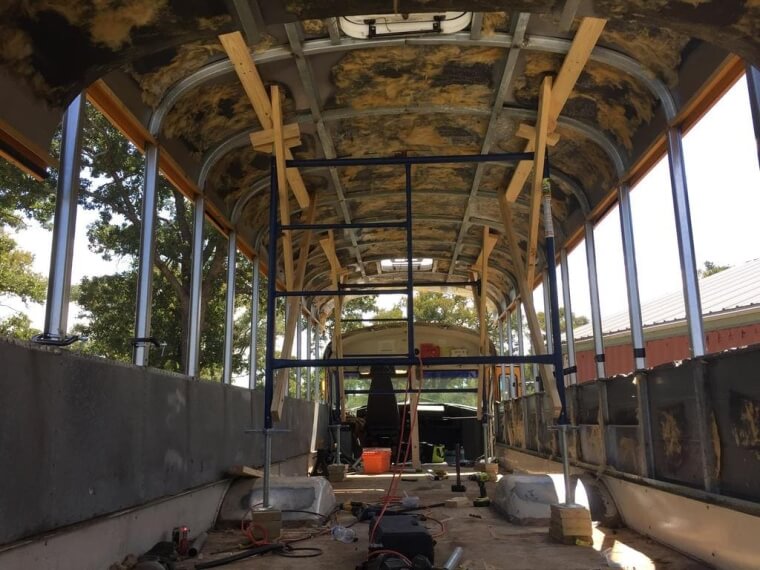 With the help of his friends, they turned the screw jacks in unison to raise the roof to the perfect level on the first try. You can see the scaffolding that was used to keep everything in place while he was working on the structure of the bus. It was not an easy task, but they made it happen. 
12. Birds Eye Design Views
When Talley was planning the design, he thought of many different floor plan designs. One idea was based on one of his favorite movies, The Lost World: Jurassic Park, but that didn't work out as well as he thought. He made the design as convenient as possible so he could move around efficiently.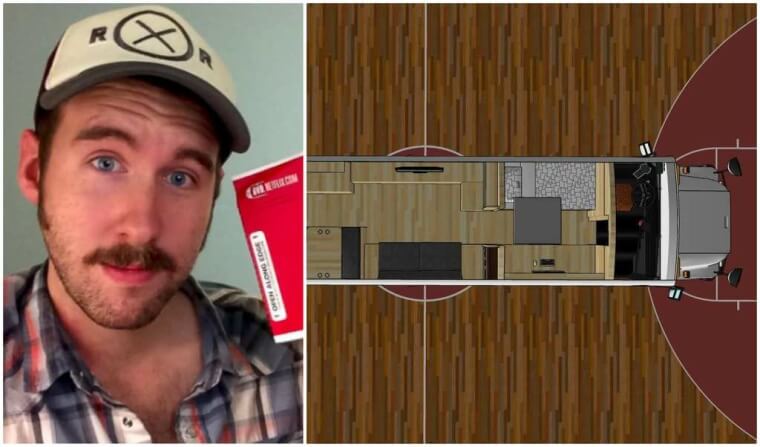 Talley also made sure that the bathroom and kitchen were closest to the door because those are the most common things that a guest would need. He loves entertaining, so he needed it to be a place where friends could hang out. 
13. Making Every Inch Count
As a designer, Talley wanted to use every inch of space effectively. He had to make sure every measurement was precise because one incorrect measurement could throw off the whole design. His original idea was inspired by the adventure vehicle in The Lost World: Jurassic Park.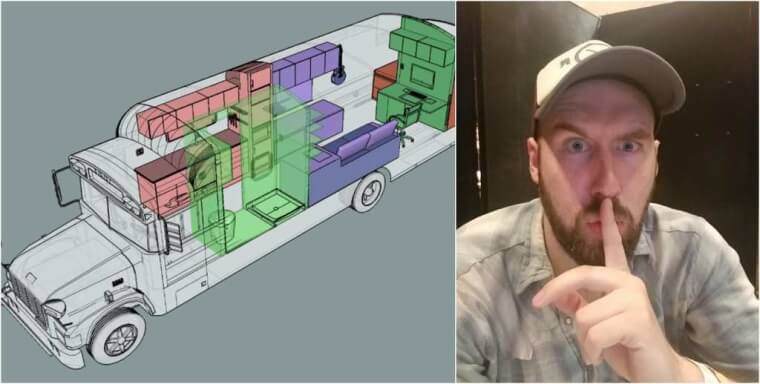 Although he loved the movie-inspired design, Talley decided to go in a different direction. He loved to entertain, so he made sure the public areas were closer to the front of the bus while his bed and office were in the back. With this idea, his new kitchen would be bigger than the one in his old studio apartment. 
14. Lending A Helping Hand
Talley couldn't complete this project without a few extra sets of hands. His stepdad was very helpful in the process because he helped him figure out the power tools and was even willing to crawl under the bus to remove bolts at one point.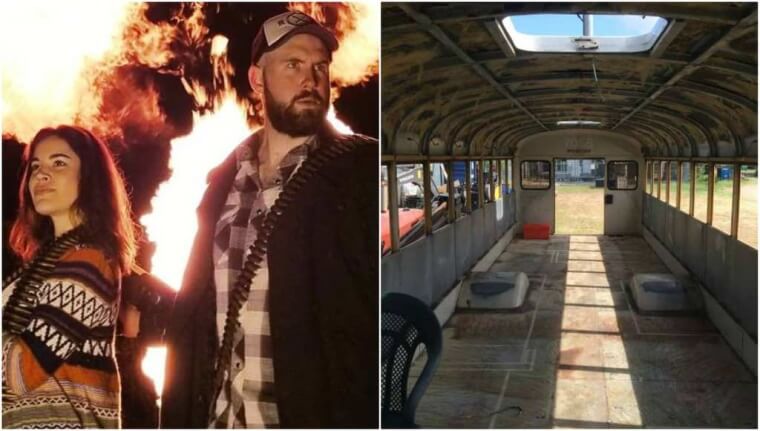 Besides his stepdad, many of Talley's friends offered their help and advice. When he removed all the seats, a lovely couple came to collect them and bring them to the scrap metal yard. It was things like this that helped Talley stay motivated since he wasn't alone in the process. 
15. Finding Treasures From The Past
As Talley stripped the inside of the bus, he found some hidden treasures. He stumbled across a note that read "kick me," which was probably used as a prank when the bus was in use. If you have ever ridden on a yellow school bus, you will remember the sound of screaming kids and people messing with each other.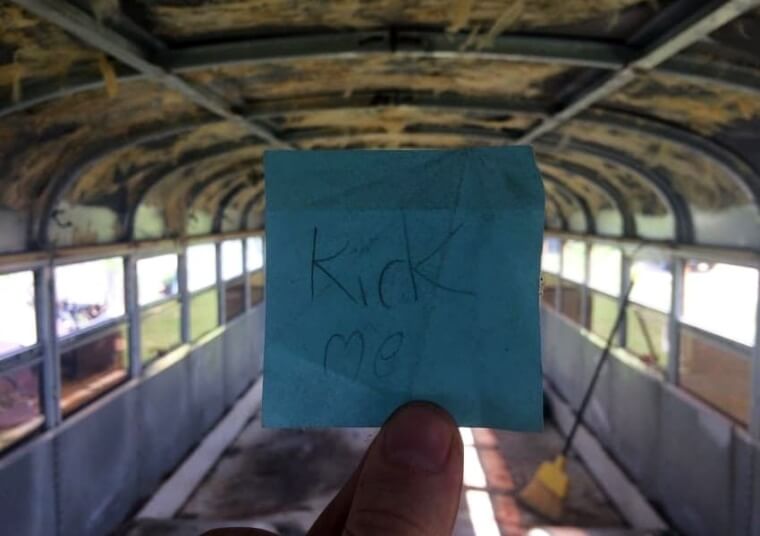 Those aren't the best memories, but Talley was sweeping them away and giving the bus a new life. He was making new memories along the journey, and once he was done, the bus would look nothing like its former self. 
16. Starting To Take Shape
Each day, the inside of the bus started to come together piece by piece. The framework made it easier to see where everything would go, and furniture was measured to fit perfectly into the small space. He even had a makeshift office set up, so he could get some work done in between the construction.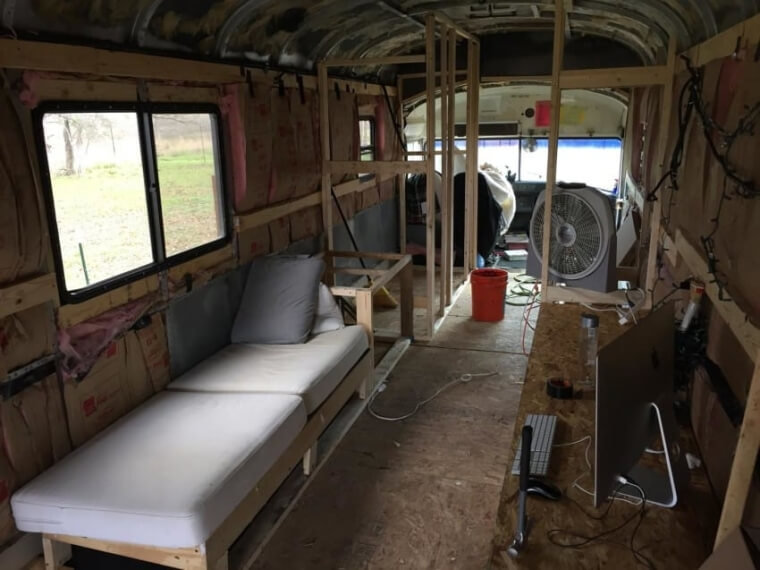 One of the biggest steps was to remove the window and replace them. Talley thought about keeping the original bus windows, but they would have rattled around and they didn't provide the best insulation. Talley also wanted more privacy, so he installed new windows. 
17. Movie Room Fit For A Movie Star
Besides his love of entertaining, Talley is also a movie fanatic. His social media is filled with pictures of him rubbing shoulders with celebrities like Matthew McConaughey.  It seemed natural that he wanted his new home to include a theatre-like space to have friends over to watch movies with him.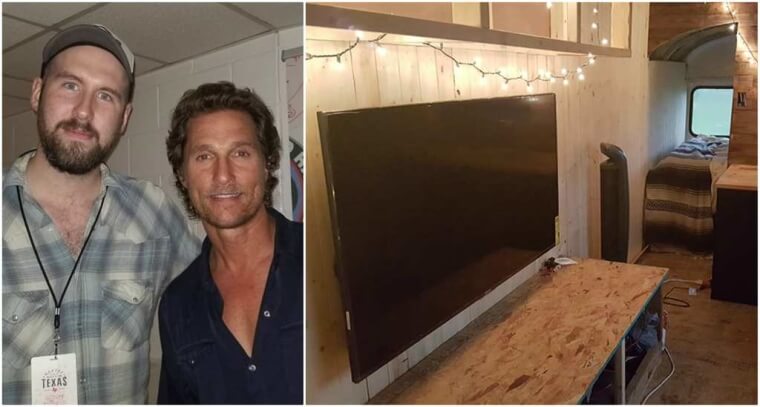 Talley also needed to have a sizeable work station because he was a designer and worked at home most of the time. There were so many things he wanted to incorporate into this small space, and he was up for the challenge. 
18. Kitchen In The Works
As someone who loves to cook and entertain, the kitchen was an essential part of Talley's design. Since there was limited space, he wanted to maximize his counter area and make the countertop a place where he could cut vegetables without using extra boards or plates.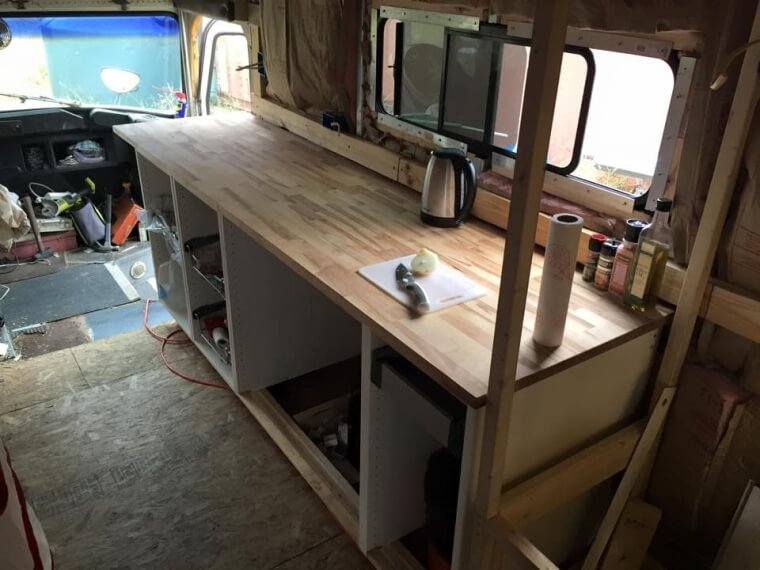 Luckily for him, Ikea was phasing out their old kitchen line, so he got an amazing deal on his butcher block countertop. He also paid only $30 for the cabinets and drawers, which helped him save money to use on other parts of the design. 
19. Using Furniture From The Past
Talley already had some furniture from his old apartment, so he decided to customize it for the small space. He took his couch and removed the back and arms so it would fit. He built new armrests that fit better, and it saved him money instead of buying a brand new couch.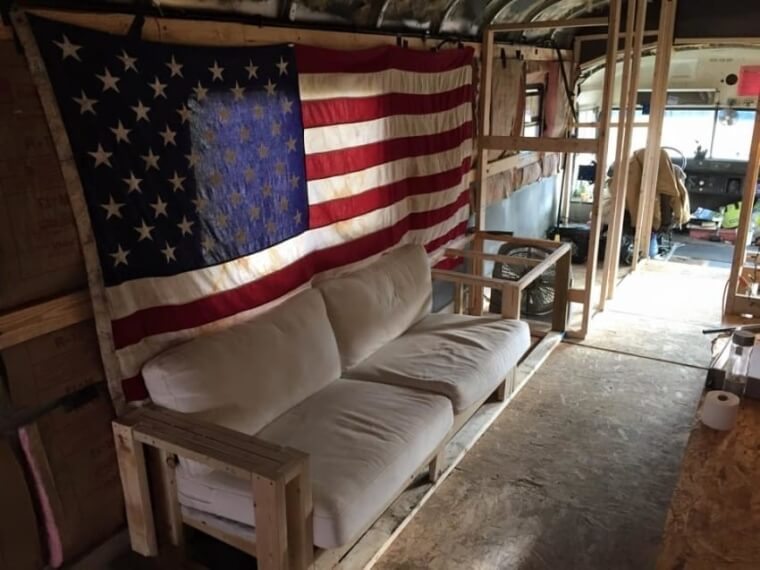 This was another important aspect of the design because Talley needed a place to kick back and comfortable watch movies or eat meals. It added an element of comfort and style to the space. For his first piece of decoration Talley decided to hang the American flag.
20. Warning: Power Tools At Work
Throughout the project, Talley was terrified to use power tools because it was a foreign idea for him. However, with any construction job, you need these tools to get the job done faster. Talley was nervous about using the power tools because they are hazardous, but he eventually got over that fear.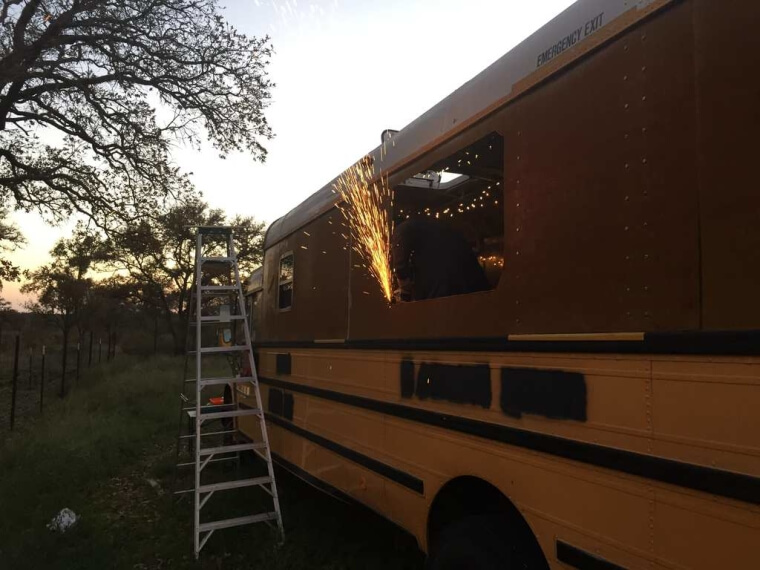 You can see him using some kind of power tool to cut the windows for the kitchen and bathroom. With a little practice, he felt more comfortable doing the more challenging components of the project. He took every safety precaution so that no one would get injured in the process. 
21. A Home You Can Drive
One of the many setbacks Talley faced was working with the bus' engine. When he moved the bus for the first time, he got stuck in the mud, which broke the power steering. Talley said it was insanely difficult to park a 40-foot school bus that didn't have power steering.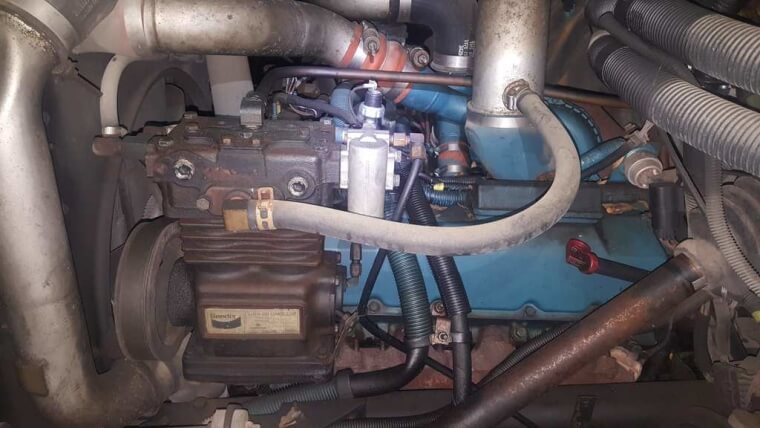 Talley also had to think if he wanted to remove the engine entirely or have the ability to drive the bus around. He had always dreamed of using the bus to travel the country, so he decided to fix up the engine. It was just another thing he had to figure out along the way. 
22. Literal Blood, Sweat, And Tears
Along the way, there were many bumps in the road, and between his minor mistakes, there were also some small injuries. Since he was working with such heavy materials and power tools, he was bound to get hurt at some point in the process.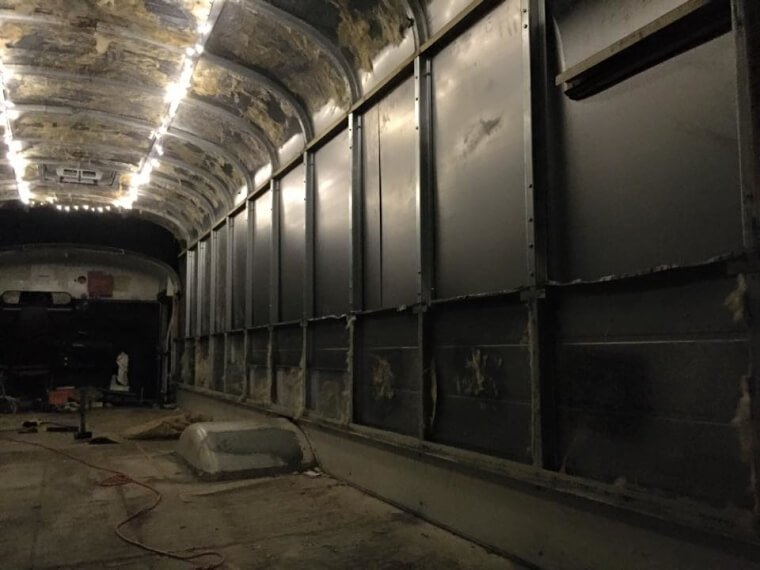 When Talley was putting up the steel siding, one of the panels fell and sliced his arm open. He got a permanent scar to remember the hard work that went into his building his home. When they said blood, sweat, and tears, it turned out they were being serious. 
23. An Energy Efficient Home
Talley wanted his home to be as energy-efficient as possible. He is environmentally conscious, so he wanted his house to reflect that. Talley decided to install solar panels to power his bus, which was both the best decision and the most challenging step in the process.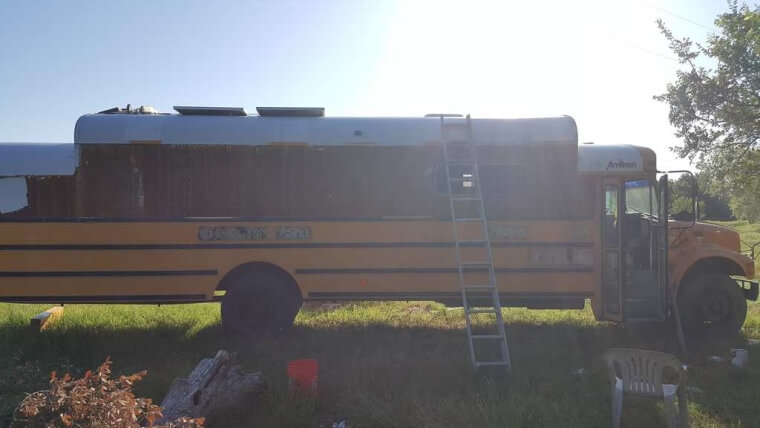 Not only were the panels challenging to move, but it was also the only day Talley didn't have anyone to assist him. He said that this was a frustrating day because the wind was blowing things off of the roof, and he didn't have any help. 
24. DIY-ing Everything He Could
The entire transformation process was one giant DIY project, and he tried to do as many things by himself as he could. One part Talley was specifically proud of was the backsplash in the kitchen. He had a vision in his mind, and he was excited to bring it to life.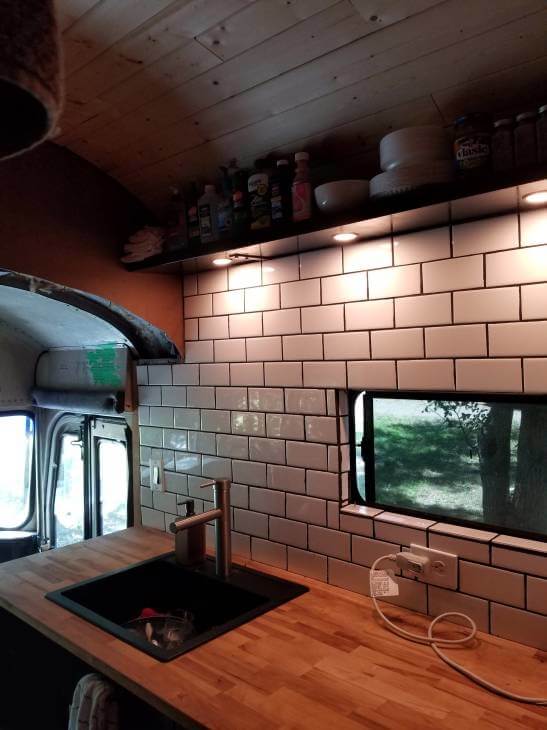 The only features he knew he wanted were dark hardwood floors and white subway tiles with black grout. Although he said it wasn't his best work, this is pretty impressive for someone who has never put up backsplash before. Talley also made sure that the material was lightweight and sturdy. 
25. The Legacy Of The Armadillo Bus
When Talley saw the busses up for auction, he chose this specific one because of the heartwarming story behind it. There was an armadillo sign on the side, which is why they called it "the armadillo bus." Two of his friends rode it to school when they were younger, which made it even more special.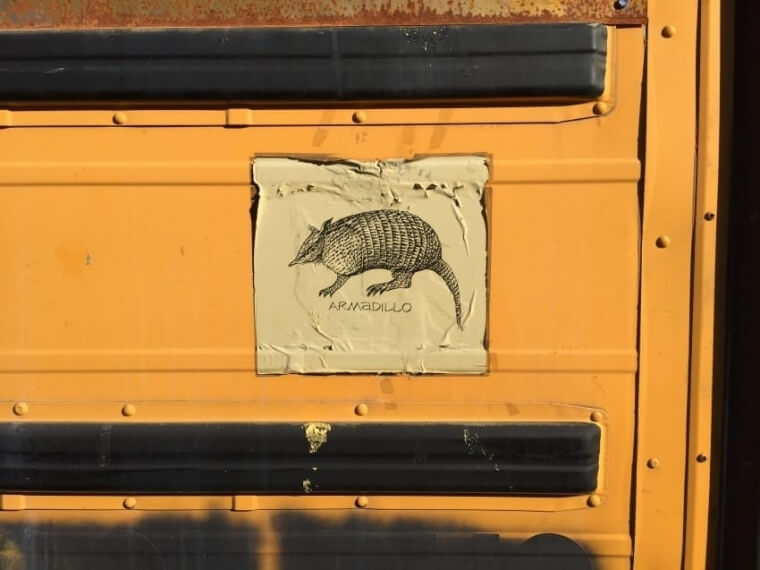 Throughout the project, he thought of those friends, and they even helped him along the way. It was as if the bus came into his life to help him find happiness. Sadly the armadillo sign got scraped off when he was finishing the outside of the bus.
26. A Home Office To Inspire His Dreams
As a designer, Talley needed a creative workspace in his home. With everything going well in the bus transformation, he wanted to make sure he had a proper home office. Talley wanted to start fresh, and to do so, he needed a place that would inspire his work and keep the creative juices flowing.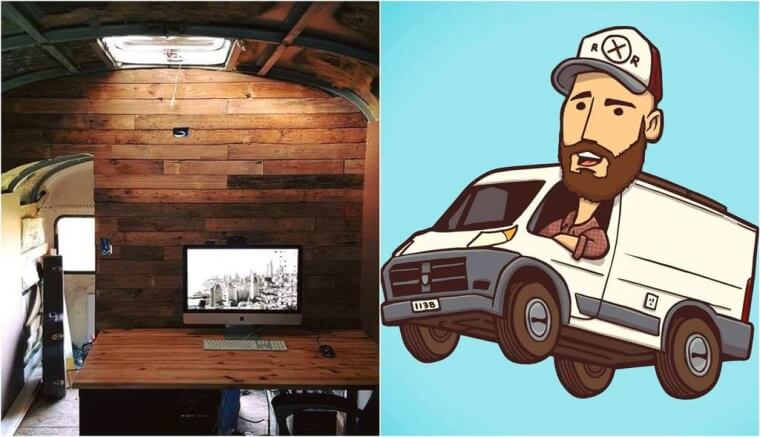 In most of the tiny houses he researched, he found that people would install a small desk that flips out from the wall, but that is not what Talley wanted. He built a desk that was five feet wide and two feet deep, which was the biggest desk Talley had ever owned. 
27. Reduce, Reuse, Recycle
When Talley was planning his interior renovations, he not only wanted to be efficient with space, but he also wanted to use environmentally and budget-friendly materials. When it came to the wood he used for the interior flooring and furnishing, Talley said he truly lucked out.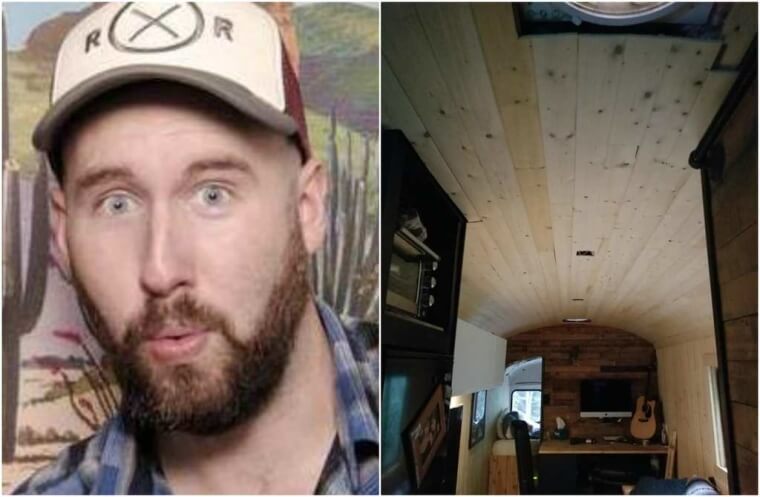 Talley said, "I lucked out with this wood. It's reclaimed floorboards from a house here in Hyde Park in Austin, from 1941. I just flipped it upside down and used the unfinished sides for all my accent walls/couch." It was such a creative idea that also saved him a lot of money. 
28. The Design Wasn't The Only Thing That Mattered
Besides the design and the interior furnishing, Talley needed to think about the essentials like electricity and plumbing. It couldn't be a functioning home without those details. These things needed to be executed perfectly because there was no room for mistakes.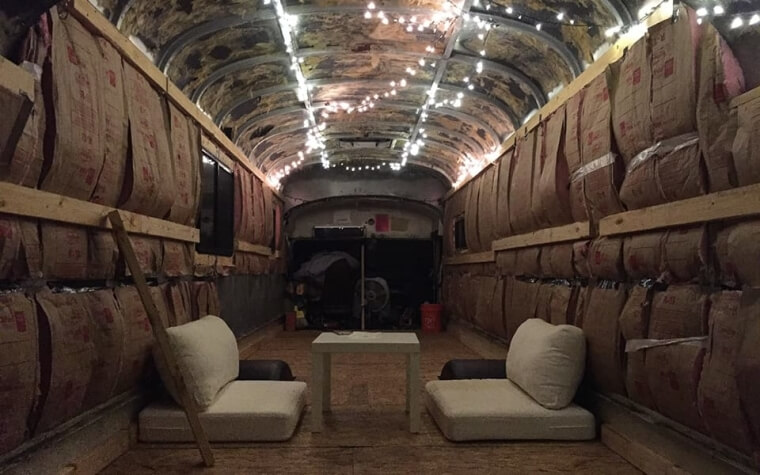 Once he installed the lighting and the plumbing, Talley could move on to the other aspects of the design. When he attached the solar panels to the roof, Talley put interior panels on the ceiling, and then voila! They had working electricity. 
29. Trying To Stay Cool While Working
Before the bus had air conditioning and working electricity, it felt like Talley was standing in an oven all day. In the hot Texas sun, it was impossible to cool off during the long building process despite bringing in a fan and opening the windows and doors.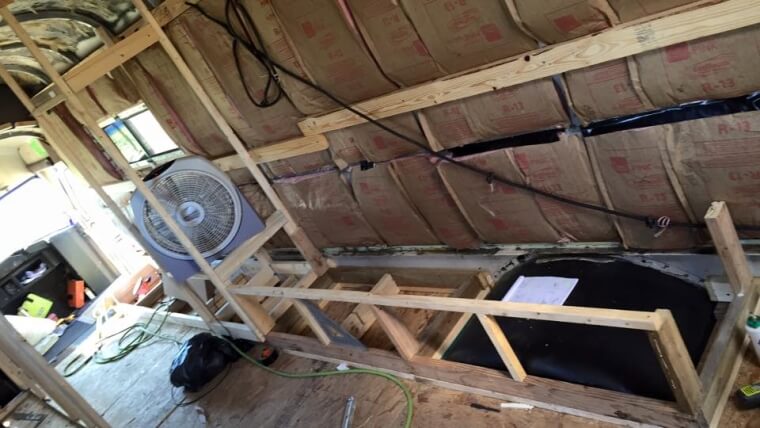 Talley made sure to stay hydrated and added more fans inside the bus to keep the air flowing. It was a drawback in the process, but like all the other problems, Talley worked through it and thought of these times as memories to look back on. 
30. The Wheels On The Bus Don't Go Round And Round
The bus was obviously very old, considering his friends used to ride it to school as children. Many features were falling apart when he bought the bus, and during the transformation, the wheel fell off. That is indeed not supposed to happen.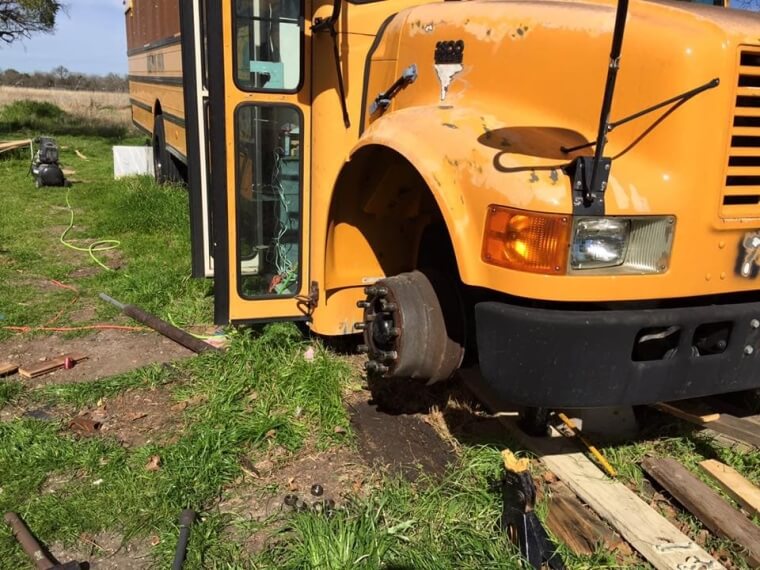 Although it didn't hurt the building schedule, changing a bus tire was a blow to Talley's budget. It turned out to be more expensive and demanding than he thought. After this, Talley had to see where he could cut back to make up for the money that was used for the tire. 
31. Everything Went Up In Flames
Throughout the building process, Talley had grabbed many people's attention, and they were following the transformation on Facebook. Talley didn't take things too seriously and approached the whole process with humor. For April Fool's, he played a prank on his friends and posted this photo to Facebook.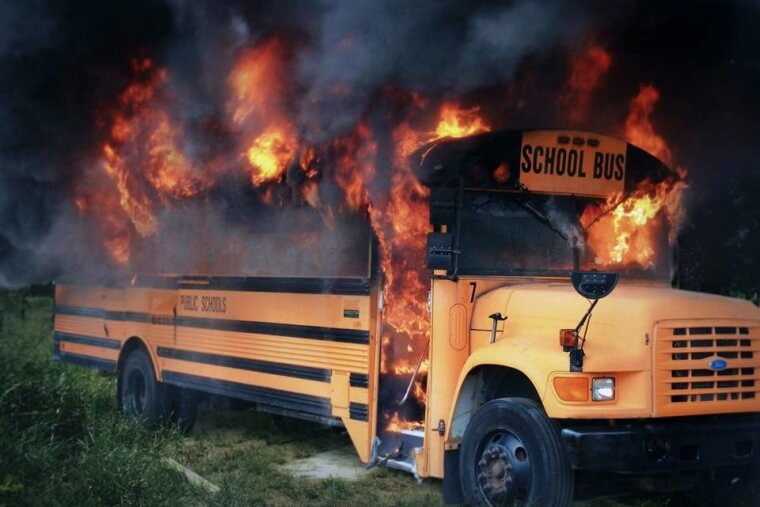 When he posted a picture of a bus on fire, everyone freaked out. Talley had a good laugh, but he scared most of his friends who thought all his hard work went up in flames. Talley said it was the best April Fool's joke he had ever done and he almost gave his mom a heart attack. 
32. Kicking Back With A Good Movie
During the final stages of building, Talley took full advantage of testing out the parts of the bus that were already finished, like his movie room. There is nothing like kicking back with a good movie after a long hard day of work. He had to make sure everything worked, so why not enjoy the new setup?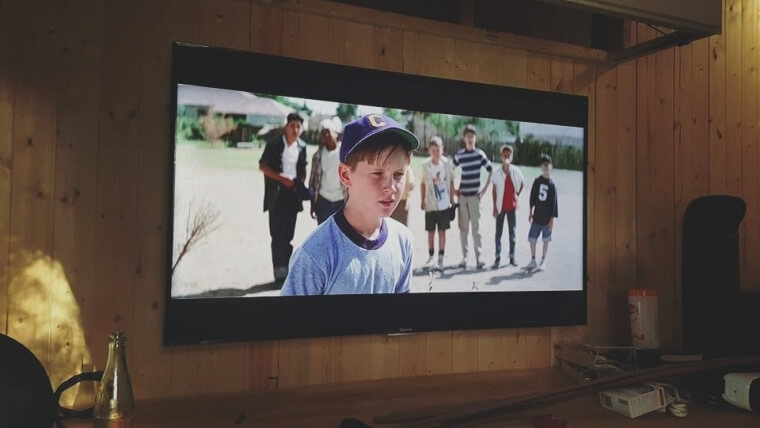 Talley admitted that he made a mistake when he hooked up the HDMI cables. He said, "I should have also wired HDMI cables to the cabinets below and above, but I was an idiot, so now I plug my PS4 in whenever I use it." He has to make some compromises, but who doesn't? 
33. Meal Time On-The-Go
When you move out of your apartment and dedicate most of your time to transforming a bus into your new home, you have to make sure it has everything you need. One thing that is essential to any home is a refrigerator. Talley had to make sure he got his with the right measurements so that it would fit in the small space.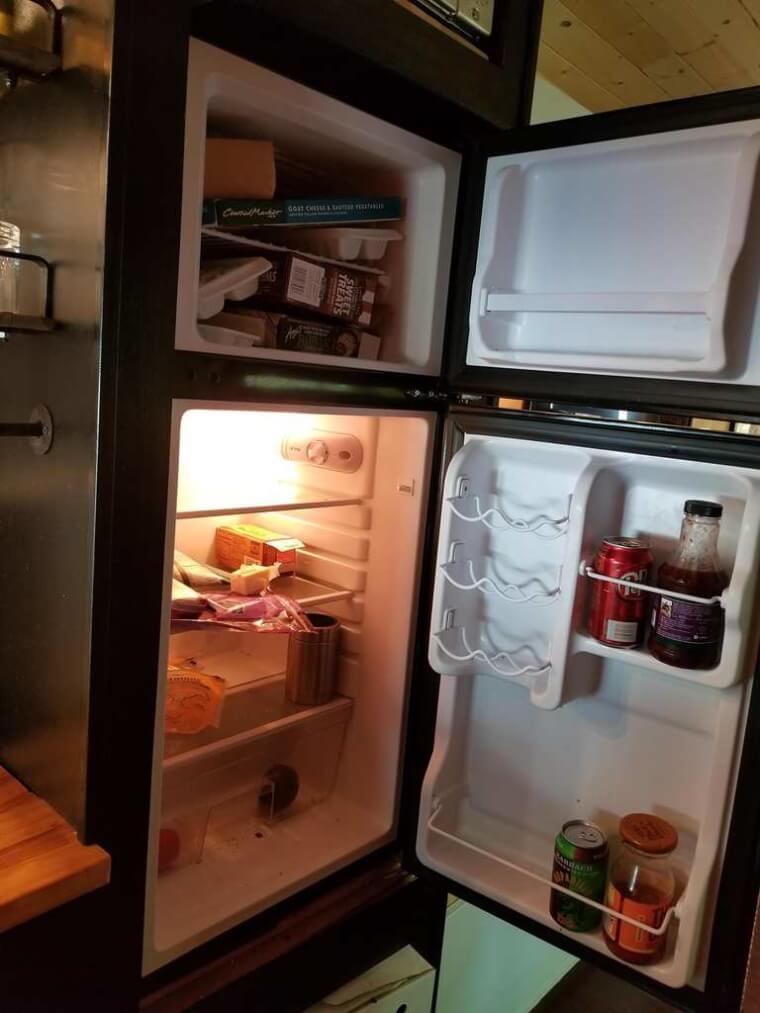 In this photo, it looks like he needs to hit the grocery store and restock his fridge. Another important thing for this home is making sure that everything will stay in place if he decides to drive the bus. You wouldn't want food flying everywhere as you drive along a winding road. 
34. Time For A Fresh Coat Of Paint
This was one of the last pictures Talley took before he decided what color his bus would be. Although the yellow is iconic, it definitely needed a fresh paint job after all the renovations. He wanted the outside to look just as nice as the inside, so Talley picked a more neutral color.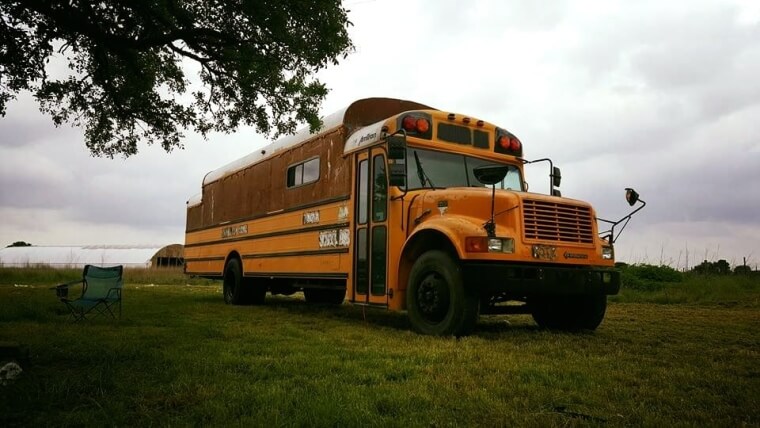 Since the roof was raised, it is a different color than the rest of the bus, so it needed to be painted. Talley moved the bus to prep it for the paint job, and everything was almost finished. Talley was so excited to be that much closer to the end of this long transformation. 
35. Everything Plus The Kitchen Sink
Although there were many challenges, Talley had luck on his side many times when it came to saving money. Besides the great discount he got on the countertop and the cabinets, he also found the perfect sink at Ikea for half its original price.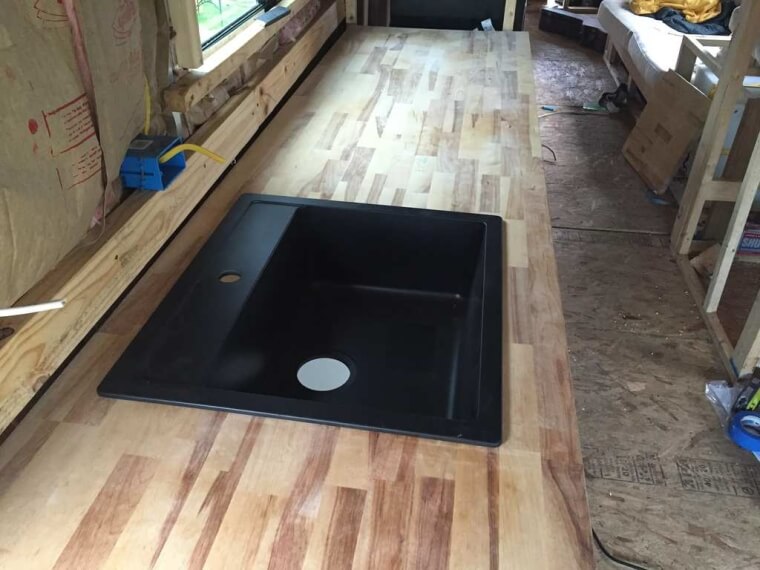 It was a beautiful matte black sink that was the perfect size for Talley's space. He liked the dark feature against the light wood, and his vision was coming to life. Since he ran into some unexpected expenses like the tire, Talley was happy to save money whenever it was possible. 
36. A Kitchen For A Food Lover
The kitchen was an essential part for Talley, and as it all came together, he was so impressed with the design. It looked like a fancy kitchen, and it was larger than the one he had in his studio apartment. He had a specific style in mind and, once he found all the pieces, it looked perfect.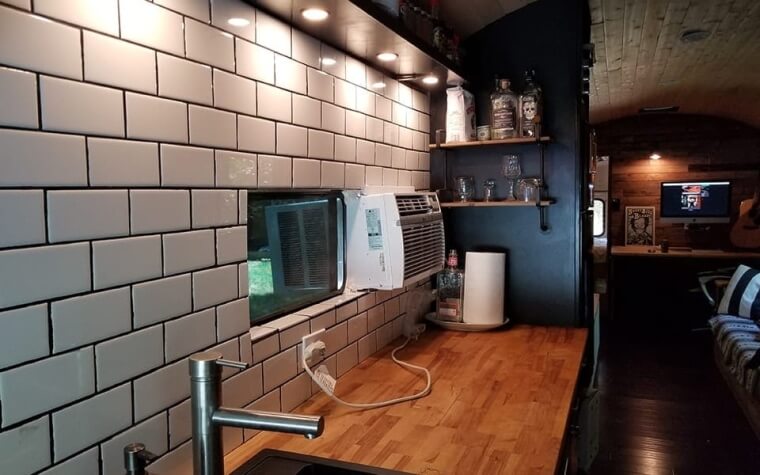 There was storage space for everything, and it was neatly organized. Talley was ecstatic with the outcome and couldn't wait to have friends over so he could cook for them. Not only did the space look good, but he also got everything at a bargain price. 
37. The Most Important Spot In The Bus
One of the most important spots in his tiny home was the bedroom. You can't have a house without a place to sleep, and Talley made sure it was a cozy place he could relax. After sleeping in a tent throughout the transformation, he was excited to finally have a real bedroom with a soft mattress and a TV.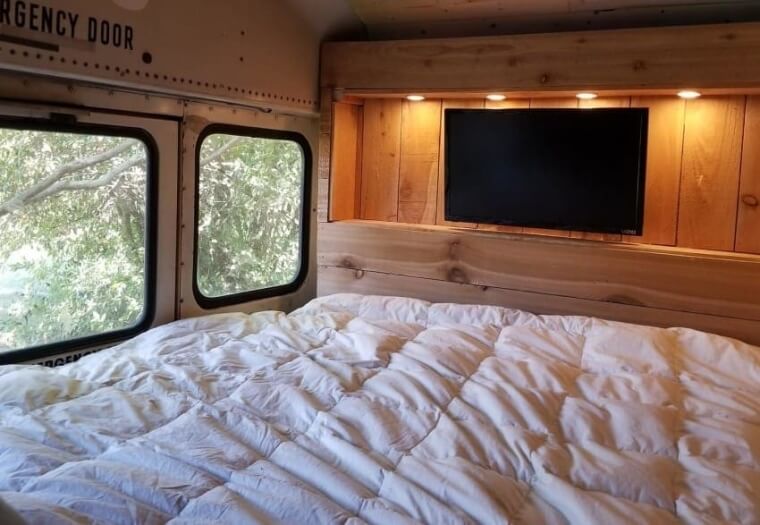 Talley also made sure it was a spot where he could look at the lovely views of the forest. He loves nature, so having his bed by the window was something he enjoyed. Talley decided to keep the front and back of the bus original, so the emergency door is still fully functional. 
38. Every Detail Counts
To some, it might seem like a lot, but for Talley, having two TVs in his home was a reward for all the hard work he had done. Initially, he only had one TV in the theatre area, but he added one to his bedroom because he couldn't watch Netflix on his phone every night.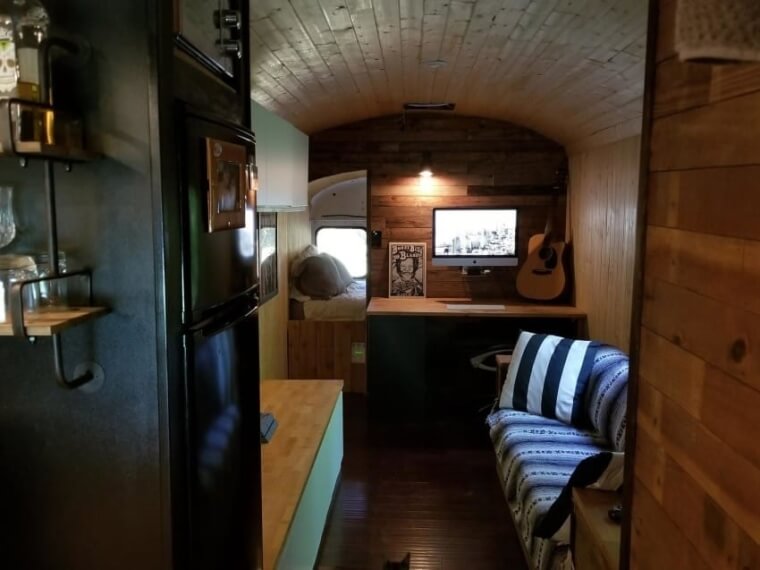 Talley thought of every small detail because he wanted the transformation to turn out perfectly. After all the time, effort, and money he put into this project, he could add whatever he wanted to his dream home. It was his vision, and it didn't matter what anyone else thought. 
39. Finishing Touches
As the final days of the transformation approached, Talley added in all the finishing touches. Talley did a wonderful job, especially with his living room. It looks very inviting and a comfortable place where friends can hang out and spend time together.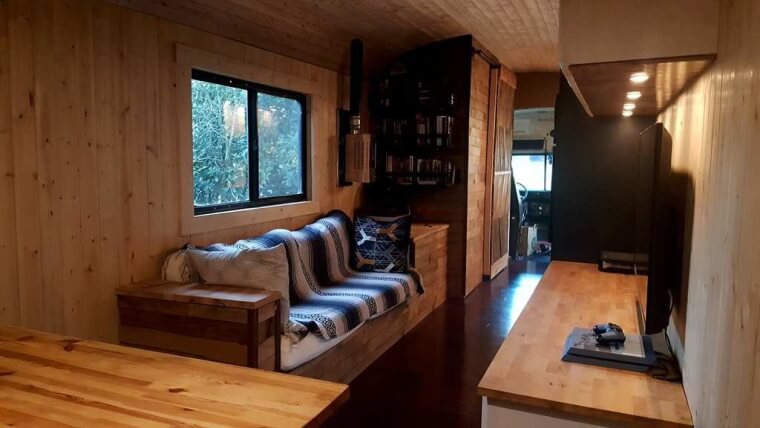 If you only saw this photo, you wouldn't even know it was a bus in the first place. You can barely see the steering wheel peeking out from the front of the bus, and it still looks like a room in a regular home. The blood, sweat, and tears were definitely worth it for Talley. 
40. Looking Back On His Hard Work
As Talley looked back on his transformation, it was filled with plenty of memories. He shared this picture from the middle of the project with a memory that he will never forget. After he removed the old insulation, Talley had to redo it so that the bus would stay warm when the weather was cooler.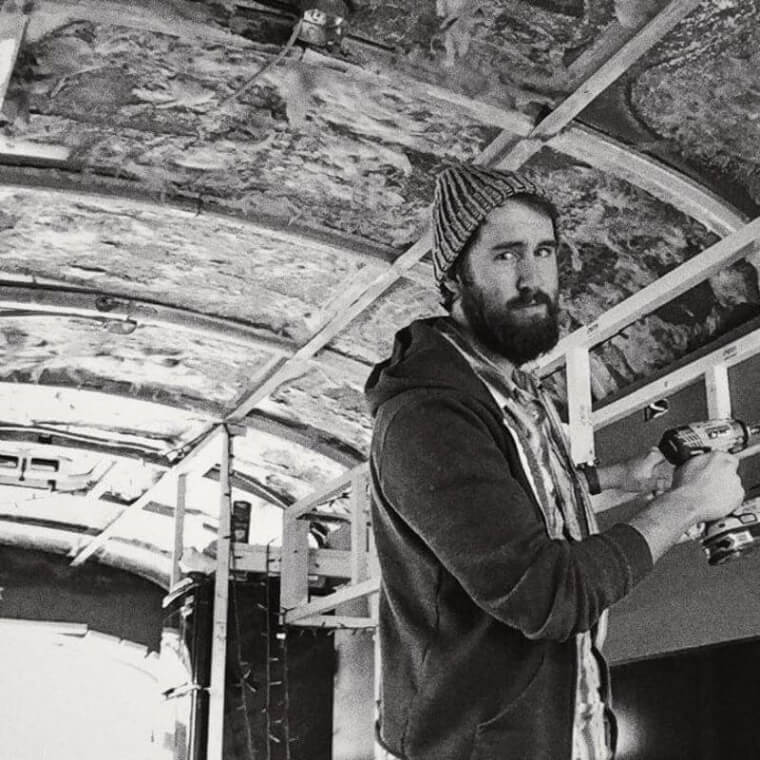 As he was spraying the insulation, he got a bunch of it in his beard and didn't realize until an hour later. Talley said he ended up having to shave his beard off because there was no other way to remove it. He looks back on this and laughs, but he wasn't so happy about it at the time. 
41. Cheers To The Final Product
After almost a year of hard work, Talley finally got to enjoy the fruits of his labor. He made many sacrifices along the way, but in the end, he finally had his dream home. Talley's friend let him park the bus on his farm, and this is one of the many times he climbed on the roof to enjoy the southern sunset.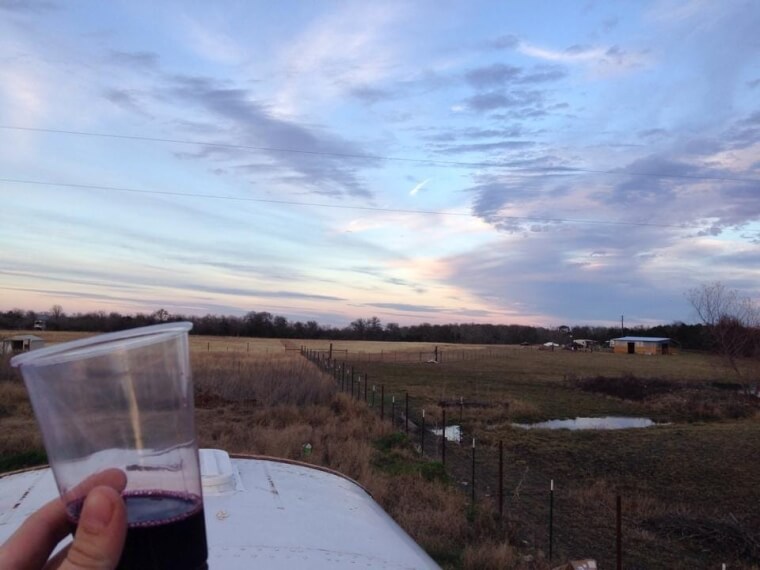 As someone who grew up in Austin, he liked the quietness of the farm. Talley loves looking out across the green land and seeing nothing but nature for miles ahead. It is one of the best things about his new home.
42. Nature Views From Every Angle
Talley's hard work and dedication produced this incredible home that he can take anywhere in the country. No matter where he goes, he will always have the best views from the moment he wakes up right outside of his bedroom. It is one of the best things about his tiny home on wheels.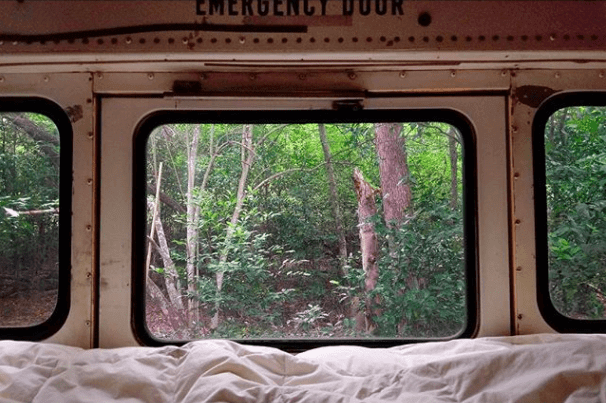 Tally was excited to finally sit back and enjoy his home that he had worked so hard on. Each day he feels grateful that he completed the project, and now he had this wonderful home to entertain friends and family. It was something he always dreamed about, and it came to life. 
43. Finally Finished And Ready For A Fresh Start
Here you can see the full before and after, and it is quite the transformation. Talley decided to paint the outside white, and you can see where they raised the roof. It looks like a brand new bus with all the incredible changes Talley made. He gave this bus a brand new life.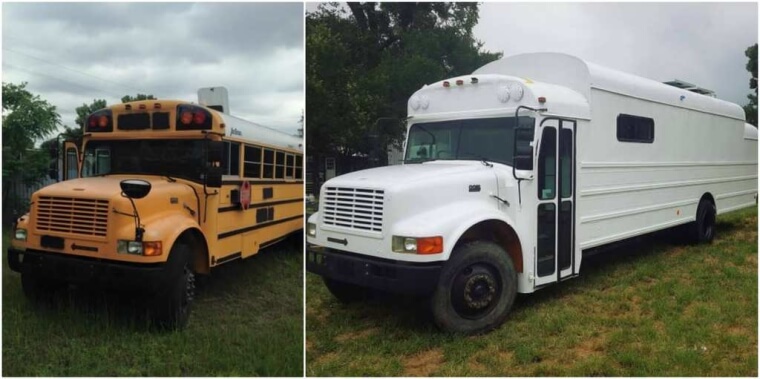 Talley said the white is perfect for the Texas sun, and he can easily change the color whenever he wants. Talley has so much pride in his new home, and it so much more than he could have imagined. He still can't believe that he lived in a small studio apartment before building his mobile dream home.