Every day, coronavirus is spreading further and further from the source in Wuhan, China. No, we are not talking about the infectious love for Corona beer, but the deadly virus that has caused a global emergency declared by the World Health Organization. People have been turning to face masks to prevent the spread of the virus, and now there is a shortage of them. We have found some peculiar ways people are improvising to protect themselves from the infection. Keep reading to see the ingenious ideas people came up with.
1. "Watch Out Corona Is Coming For Us"
Just in case you were wondering, Corona beer and Coronavirus are two very different things. If someone invites you over for a Corona and there are no drinks when you get there, RUN!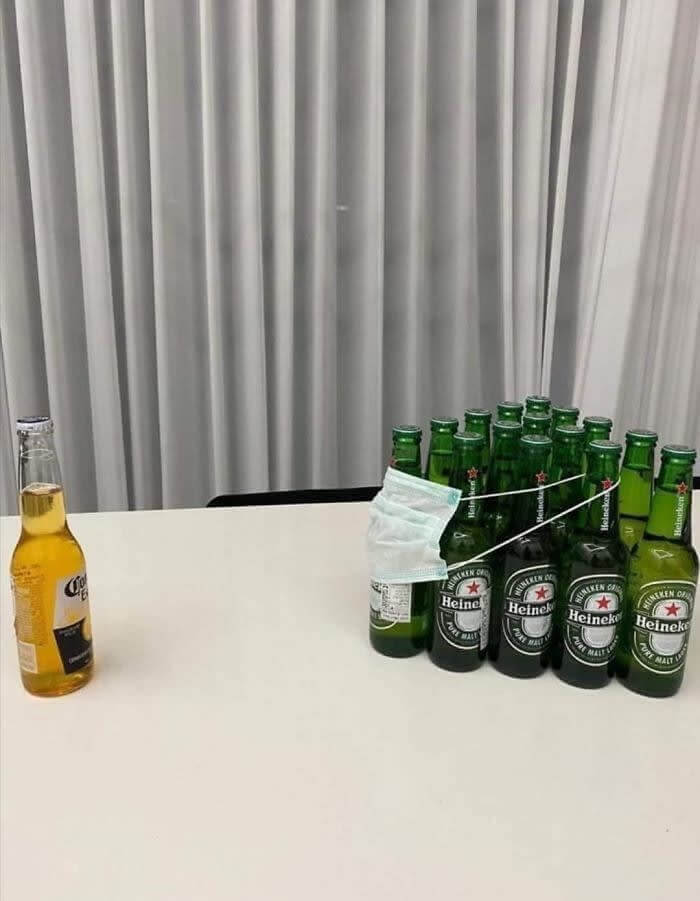 Protect the other beers at all costs! Make sure your beverages wear masks so they don't get infected either. 
2. Troll Level: Expert
Taiwan split from the control of mainland China, and they like to troll them whenever it is possible. That includes printing their flag on facemasks so that the mainland has to represent them.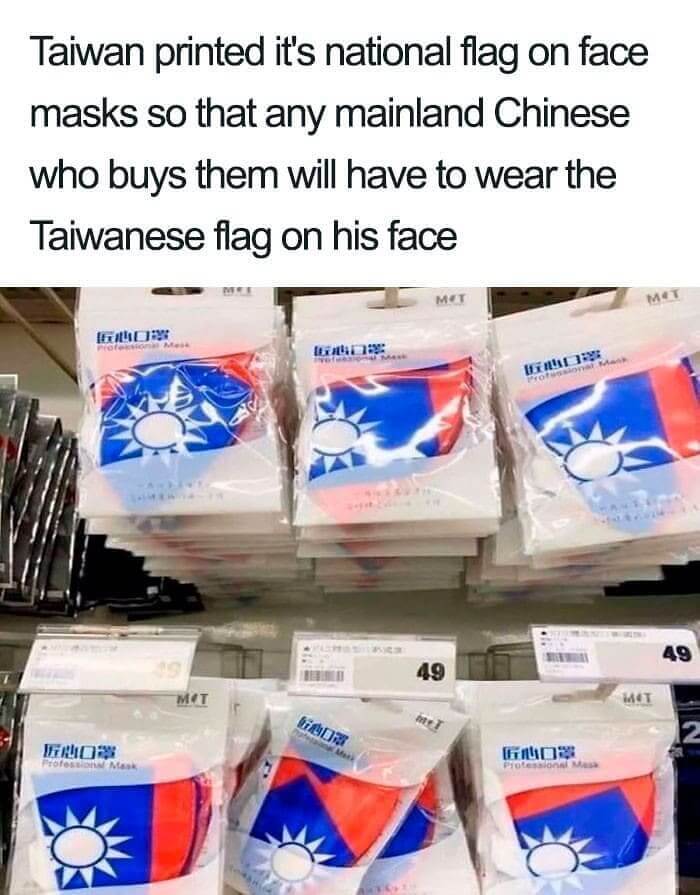 Even when the situation is life-threatening, they still like to make a dig at the mainland. 
3. Sir, Is That A Bra On Your Face?
Is he wearing the right cup size for his face? His wife must be wondering where the other half of her bra went. "Who cut my bra in half?"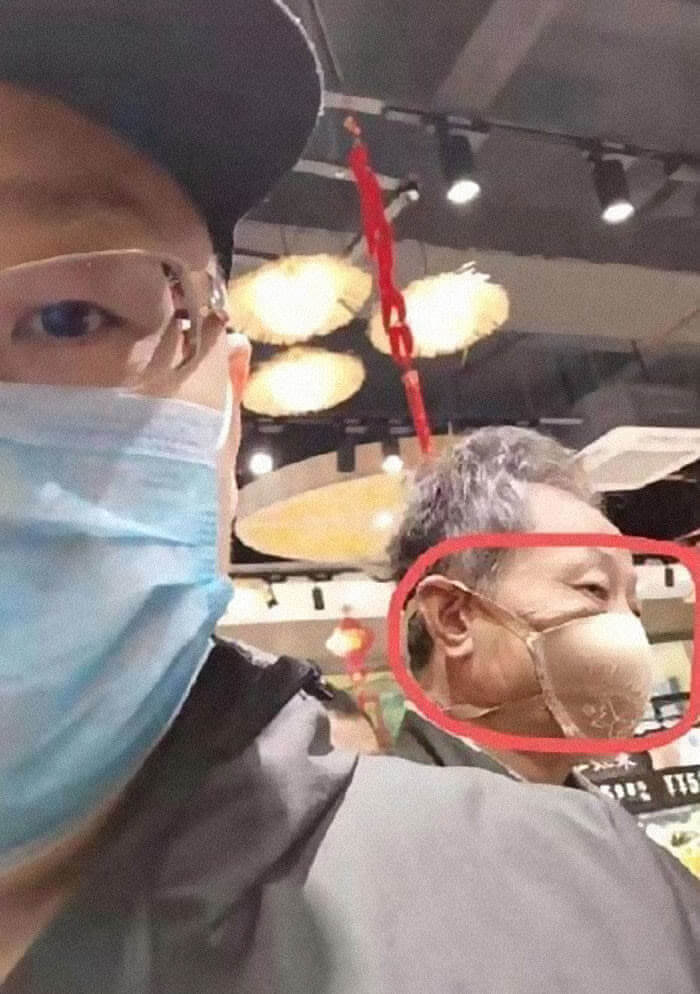 When you can't get your hands on a mask, you have to find different ways to protect yourself. 
4. Steampunk Goes Plastic
If Darth Vader was really into recycling, this is what his mask would look like, and instead of being on the dark side, he would be saving the planet from global warming.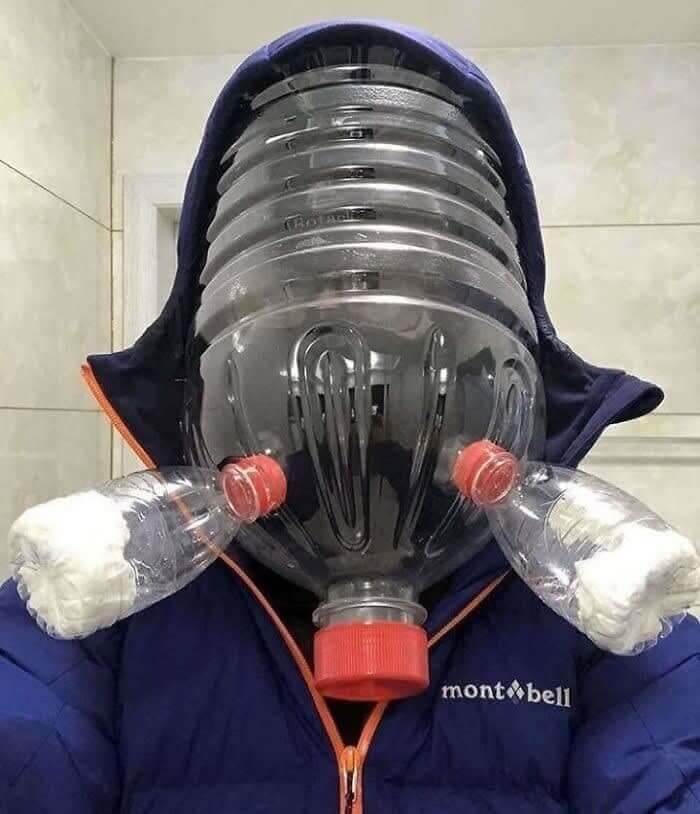 There are actually ways to make a gas mask out of plastic bottles, but this is not it. It was a great effort though. 
5. Don't Purchase These
If you see that facemasks are made in the city that was the source of this deadly outbreak, you probably shouldn't purchase them. 
It is also funny that all the masks have been human tested so you can get the virus immediately too! How fun! 
6. 10/10 Would Not Recommend
At first glance, this seems like it would make sense because it adds an extra layer of protection, but it is actually a horrible idea. The mask is supposed to be breathable, and the pad defeats that purpose.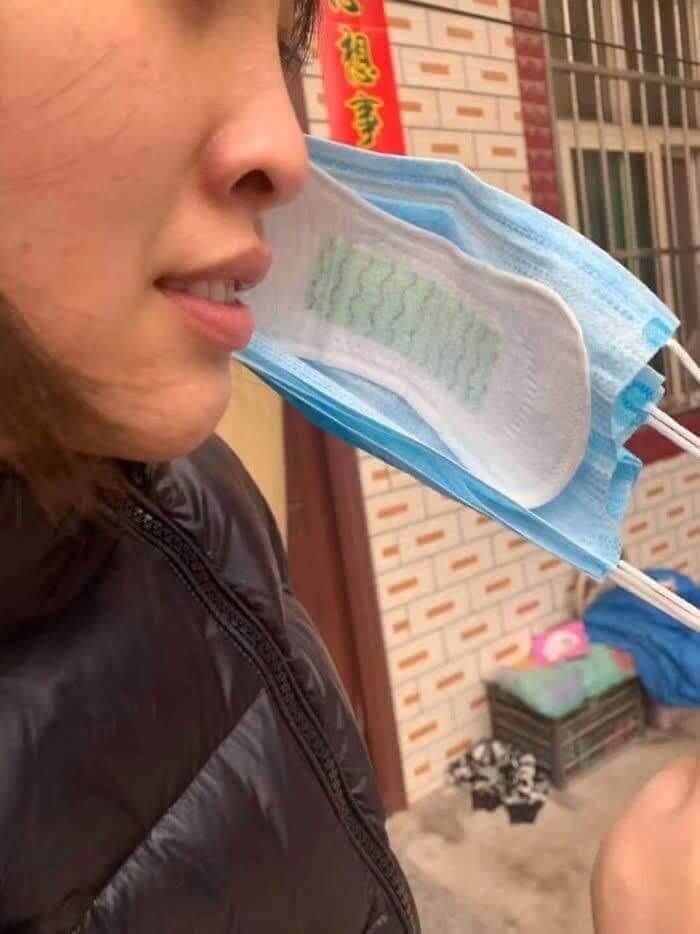 The pad is waterproof on the sticky side which makes it impossible to breathe, forcing you to take in air from the gaps in the side of the mask. That defeats the whole purpose. 
7. A Different Kind Of Bag Lady
If she is worried about her food being contaminated, it would probably already have been contaminated before going in the bags.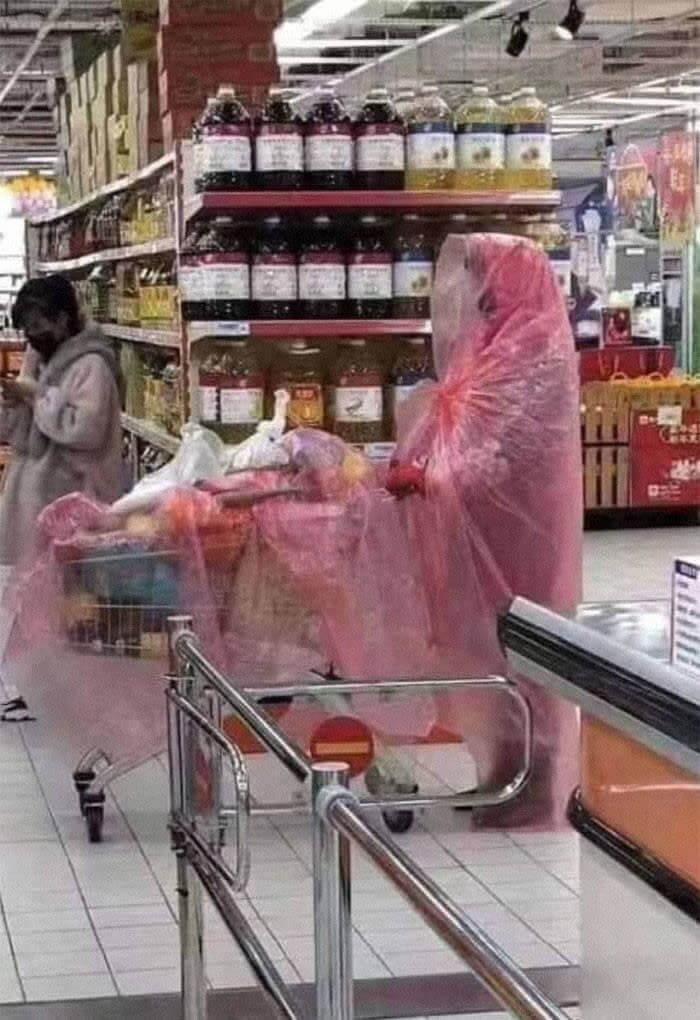 At that point, maybe you should stay home instead of bothering to go through the effort of wrapping yourself in public. 
8. Bane's Vegan Brother
As we said before, many people were not able to get their hands on face masks because they sold out everywhere. People has to think of ways to protect themselves and possibly eat a snack at the same time.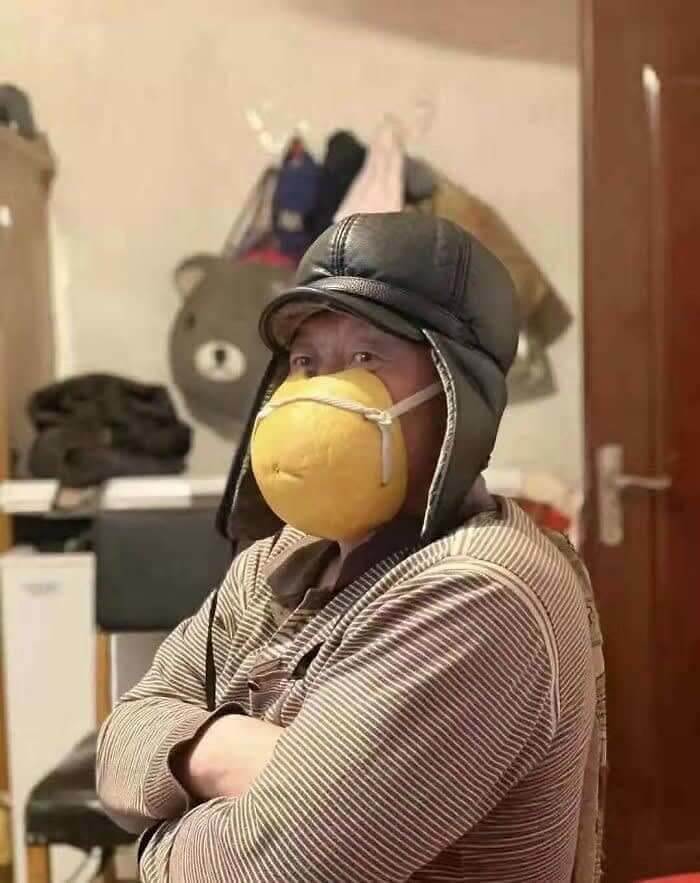 It looks like a feed bag that is used for horses. This is a way to eat without touching the food, so it is more sanitary in a way.
9. Jugheads Biggest Fans
There are many people on this list who are using plastic jugs as shields for their faces. Although they are wearing normal face masks over their mouths, this prevents germs from getting in their eyes if people around them are sneezing.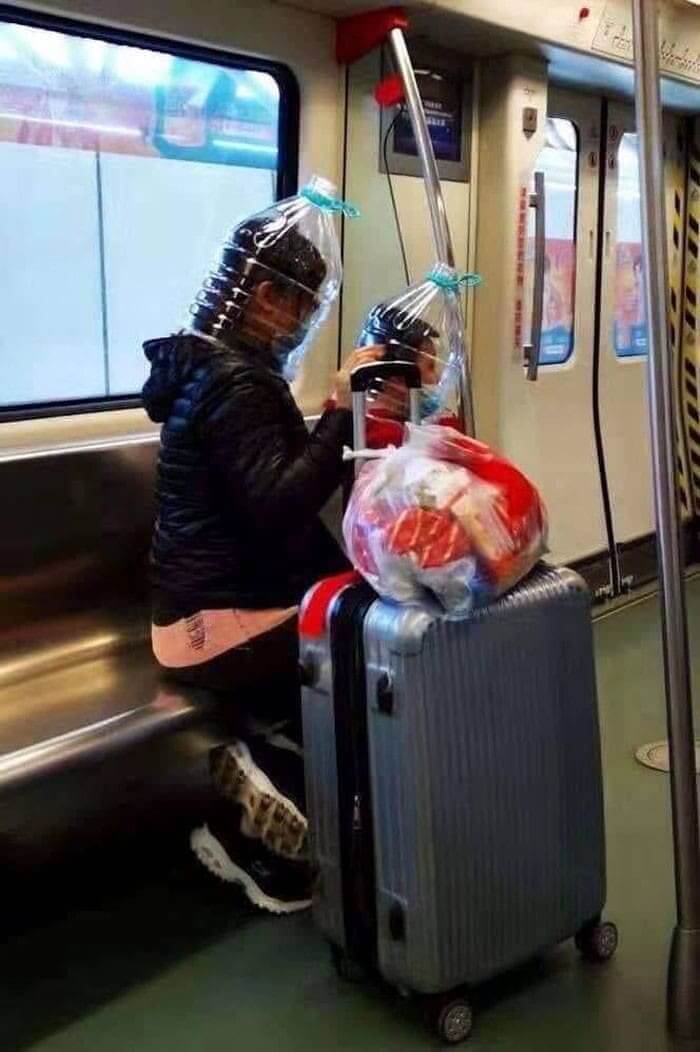 That looks pretty ridiculous, but it is not a bad idea to be extra cautious in a global health crisis. 
10. Waste Of Precious Masks
Instead of playing with poker chips, these men are playing poker with face masks because they are valuable right now. The whole purpose of the mask is to be sterile and clean, and these men are wasting them.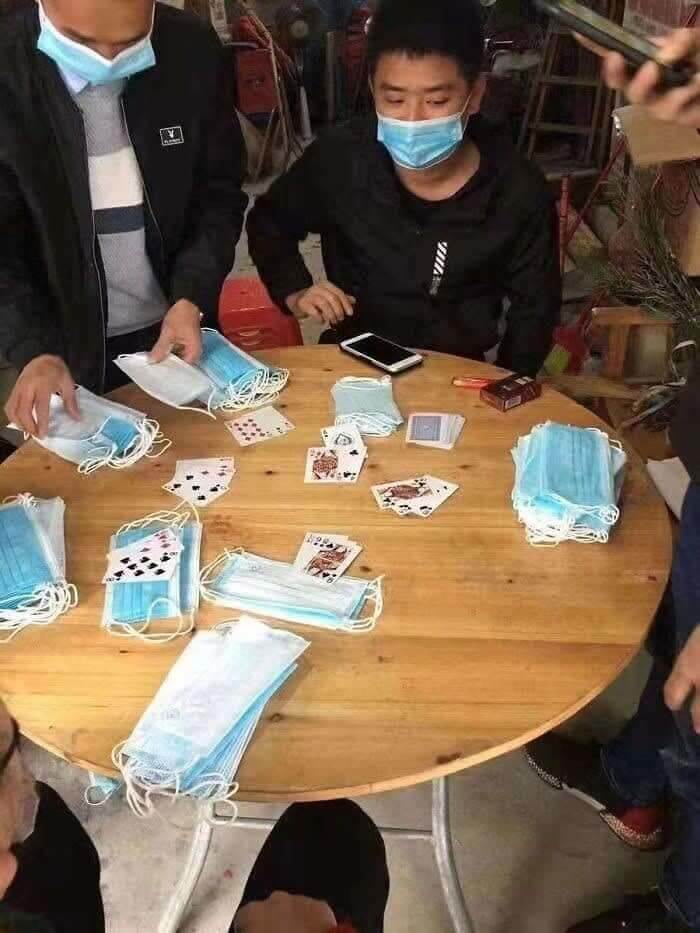 They are now contaminated from being touched by all these hands. It is really unfair because there is a shortage of these for people who don't want to get sick and they are using them for a game. 
11. Personal Bubble
When you really enjoy your personal space so you create a literal personal bubble. This is a good way to get people to stay away from you.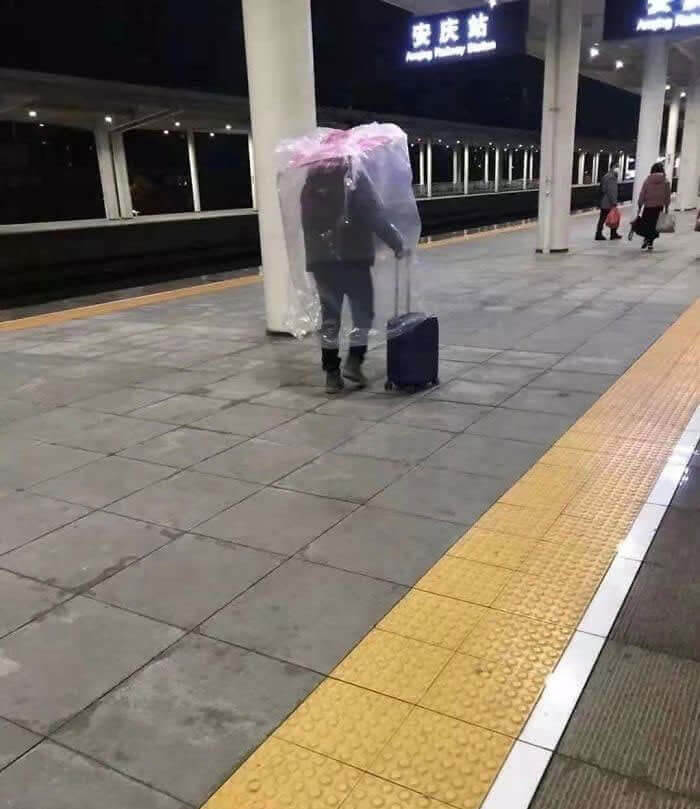 If you have ever seen the movie Bubble Boy, you know that this is a remnant of that. 
12. Bubble Family
While it seems logical to try to put a shield in front of your face and over your clothes to protect you from people who are sick, it should not be at the cost of suffocating.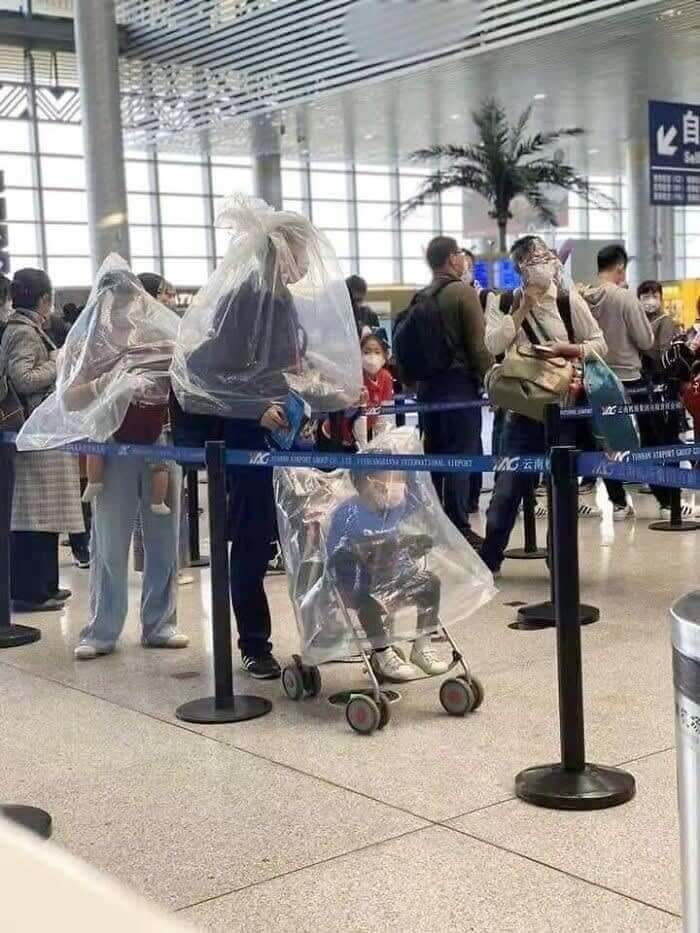 It is sad how much fear people have, and how far they will go to protect themselves from this virus. 
13. Lettuce Not Get Infected
This man would probably be wearing a lettuce face mask even if there wasn't a coronavirus epidemic. Also, we are pretty sure that a piece of lettuce and some rubber bands wouldn't protect you from a virus.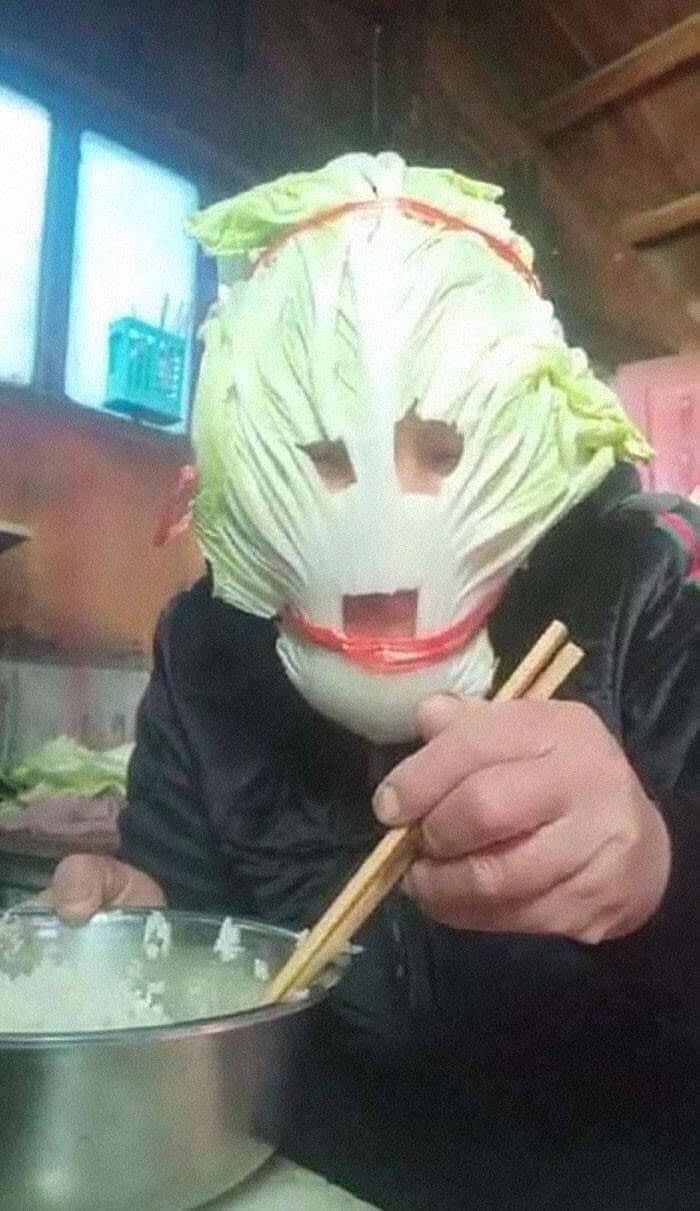 He also cut out holes at the points that are the two most vulnerable to be infected. 
14. Creativity Level: 100
The creativity to craft this mask is great. Hopefully, he isn't using it to see or walk or drive because it does not look like it would be helpful for those activities.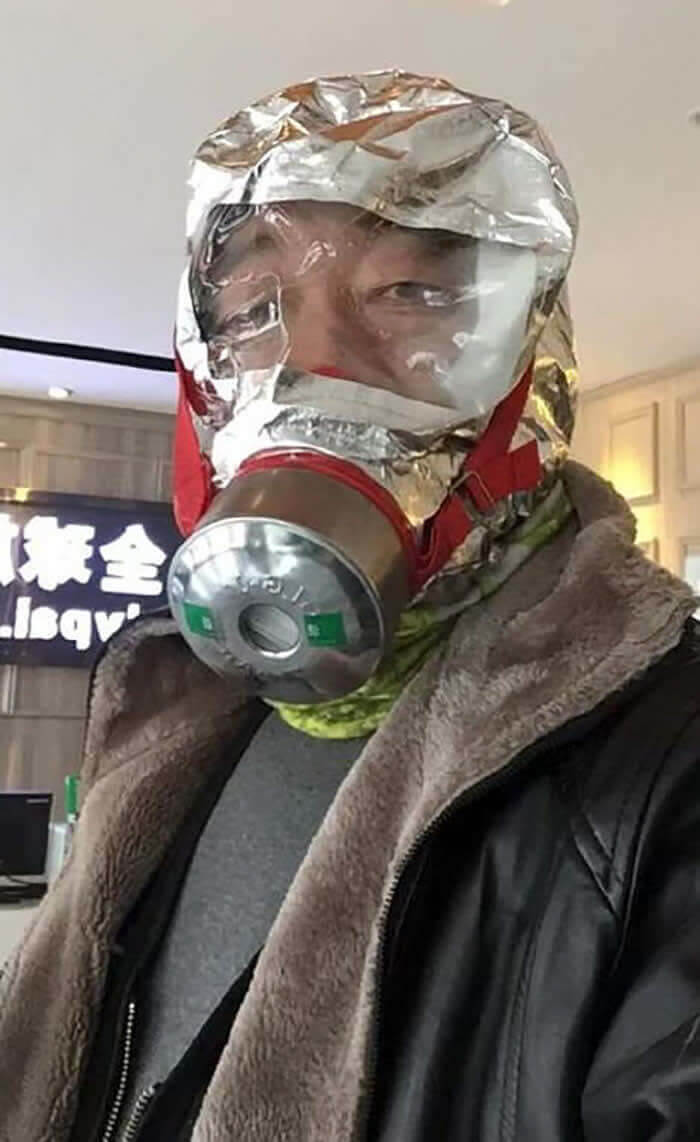 People are going a little overboard with these ideas, but if that makes you feel better, more power to you. 
15. Orange You Glad You Have This Mask
While this is not very protective, but the orange oil in the peel kills germs, so maybe it is somewhat helpful.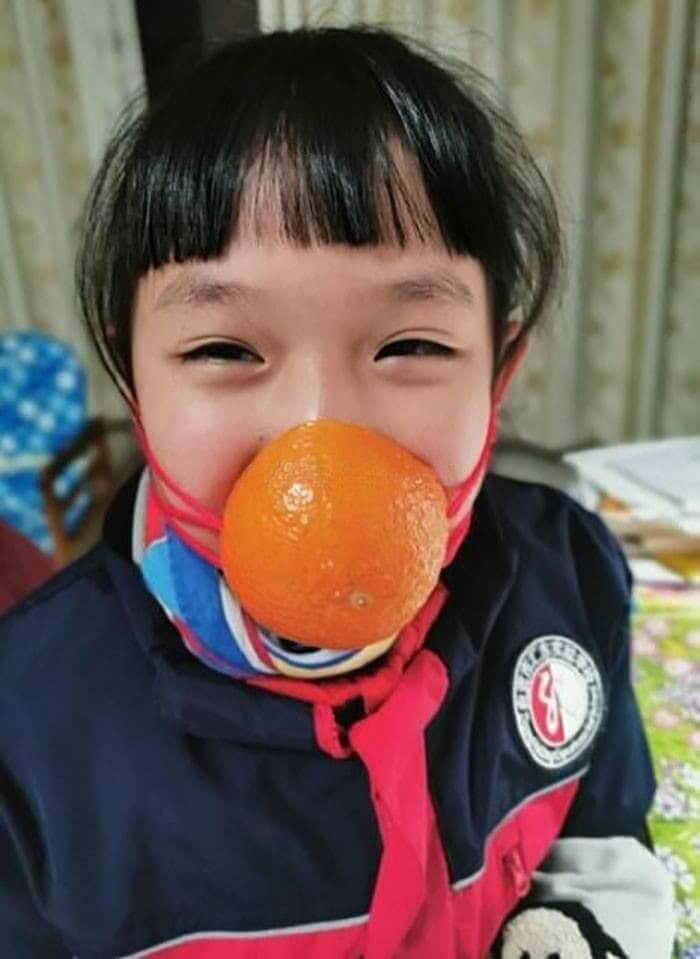 It also smells great so that is a plus. You do what you have to do for protection in a crisis. 
16. Jellyfish Umbrella
This is taking the personal bubble to the next level. It is a personal bubble that allows one person to protect someone they care about as well.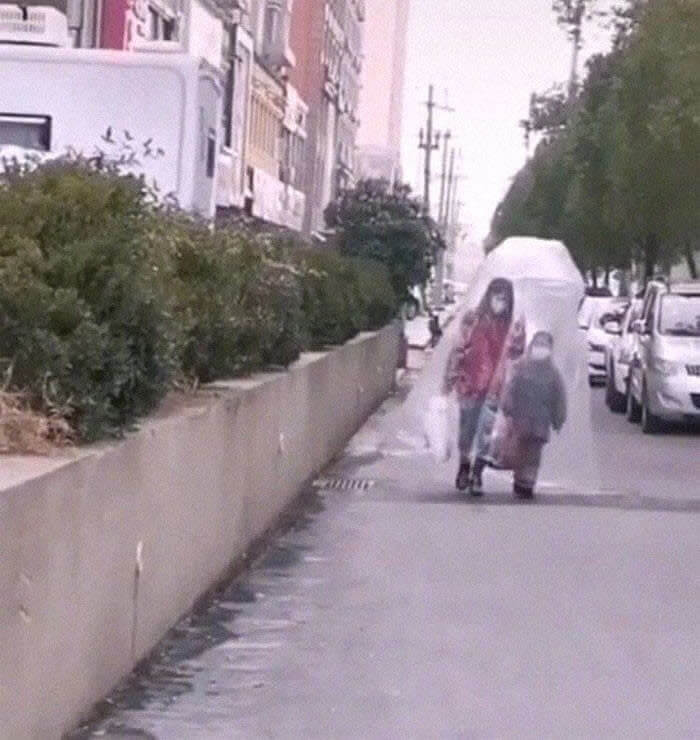 If we saw these two walking down the street, we would wonder if it was a giant jellyfish that escaped the ocean. 
17. Coronavirus Or Zombie Attack Helmet
He looks like he is preparing for a zombie apocalypse rather than defending against a rapidly spreading virus.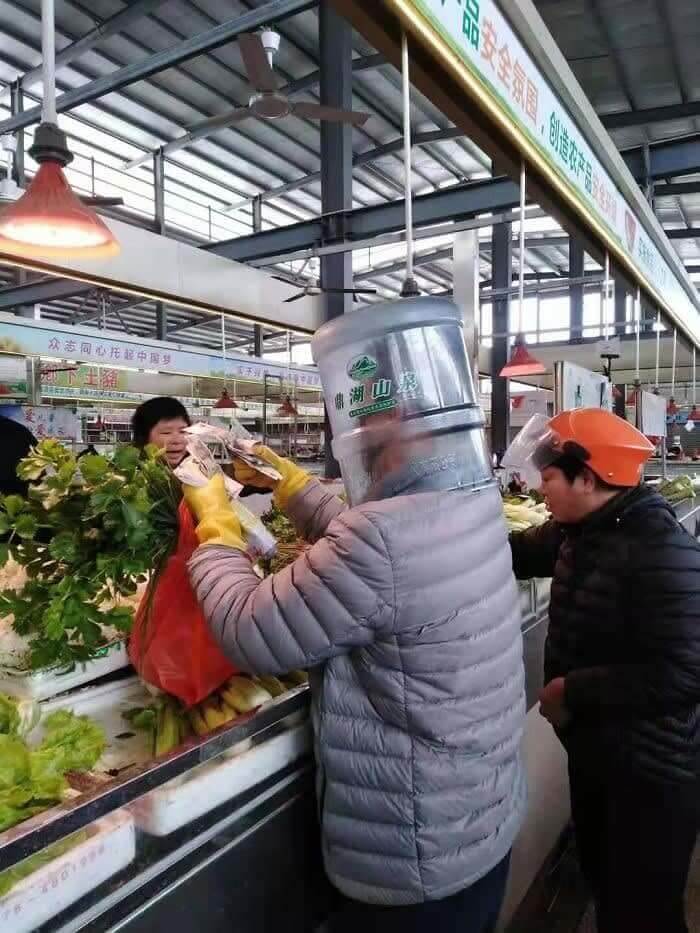 It makes it even better that the people around him aren't wearing any kind of face protection.
18. The Gloves Are A Nice Touch
This woman went all out right down to the gloves. The biggest question is how is she breathing. Unlike other people who use plastic jugs, she has a cap on the container.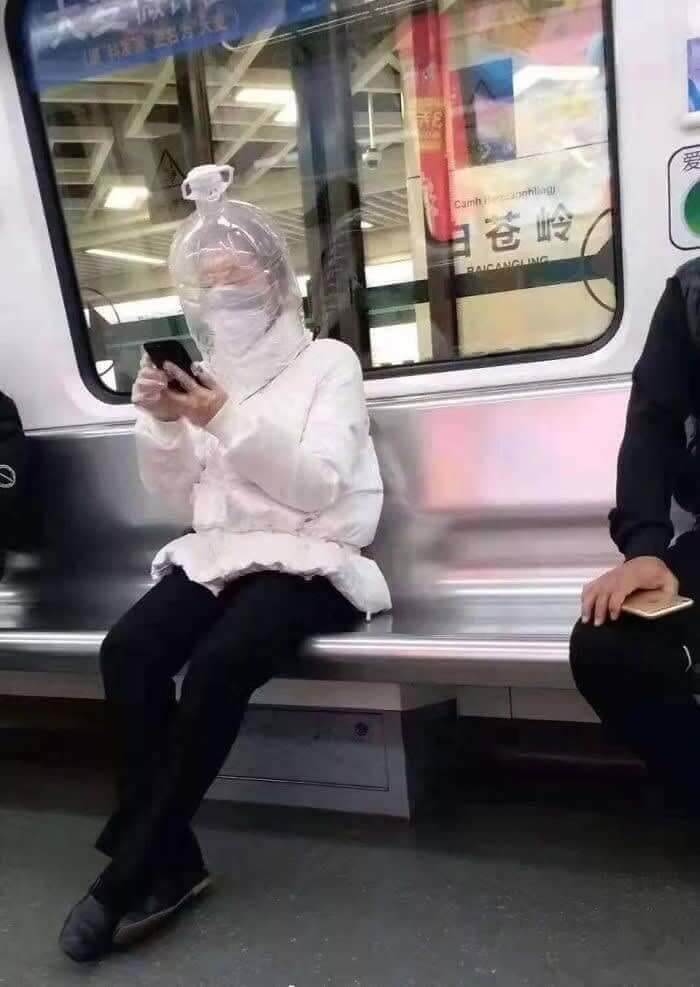 Hopefully, she poked some air holes to allow her to breathe, or else she is going to have a different problem besides the coronavirus. 
19. Melons Are The New Surgical Masks
Is that a grapefruit? Also, the woman should probably put her mask on because it would be more useful that way. 
We are pretty sure that holding the mask does not help the germs from getting to your eyes, nose, and mouth. 
20. Just Taking A Casual Stroll
Here is another example of people who have turned to plastic water bottles as head protection. This is a growing trend and it would be interesting to know if it is actually helpful.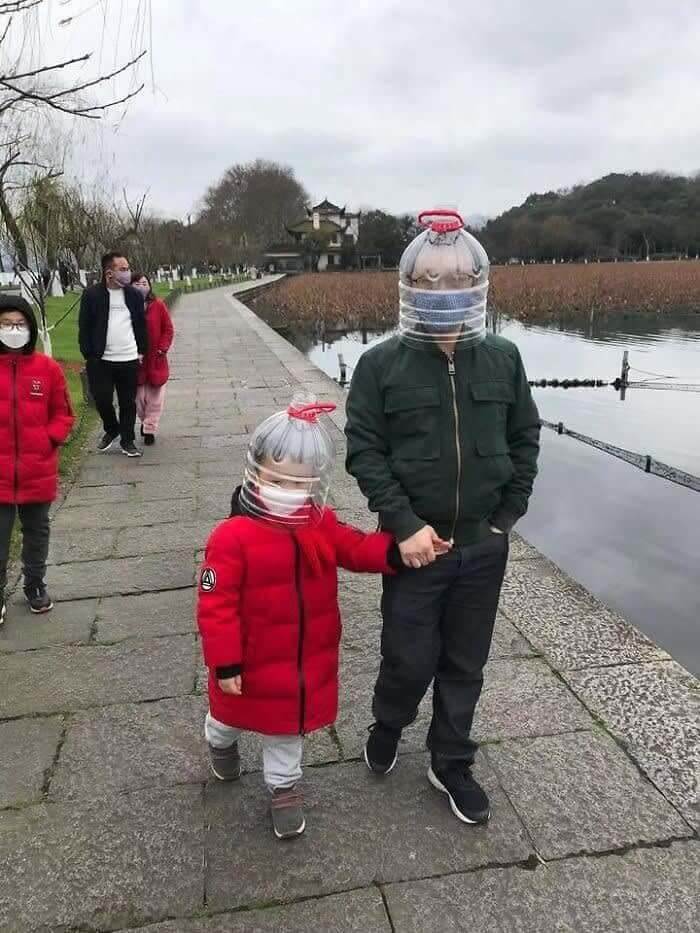 Seriously, has anyone suffocated because it does not look like a safe option. 
21. Keep Your Furry Friends Safe Too
As the coronavirus spreads rapidly, people in China are taking extra precautions to protect their animals as well. Although there is no evidence that house animals can be infected by this strain of coronavirus. 
These masks were originally made to protect dogs from air-pollution, but now people are extra careful to safeguard every family member. 
22. Peace Out Coronavirus
Who knew there were so many extra water containers lying around China? Actually, China's tap water is not drinkable, so all their water comes in plastic containers.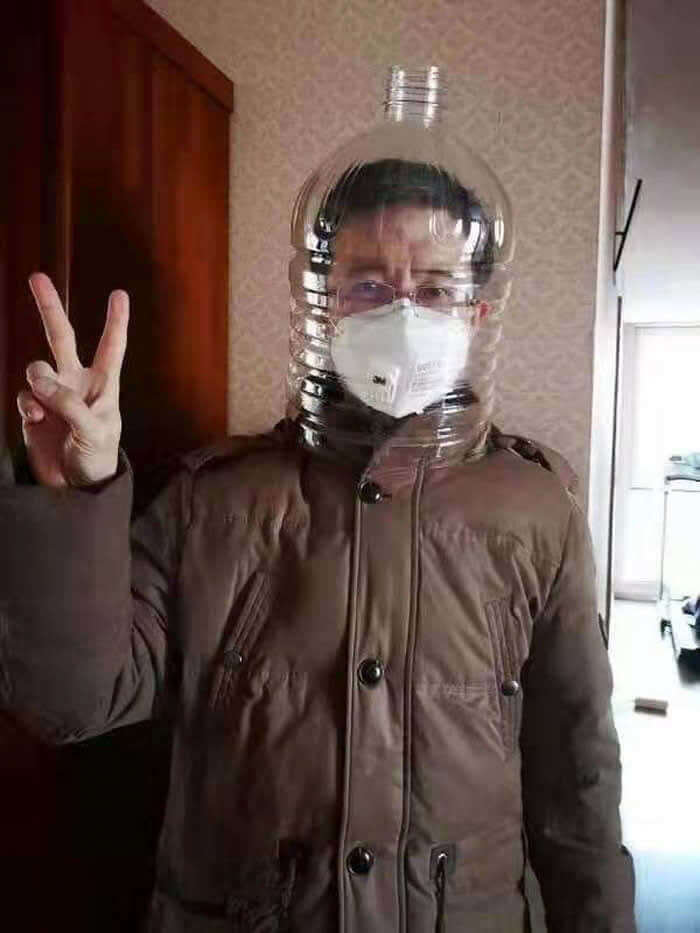 They have endless options on how to reuse these bottles, and it is a great form of recycling. 
23. Protect Your Eyes Too
This woman took her protection a step further and added ski goggles to her look. You can't risk getting infected through the eyes. 
She is taking every precaution to keep herself safe, and it is essential for her to do it in style too. 
24. When You Hate People More Than The Virus
When you would rather get infected by a deadly virus than see someone you know on public transportation. 
Maybe she is protecting herself from the haters, and this is what real hater blockers are. 
25. When Everyone Is Trying To Buy Masks
People are lining up in a pharmacy to get face masks, but most places are either sold out or have very little stock. 
It wouldn't be shocking if someone bought a bunch to sell at a higher price because they are in such high demand. 
26. Matchy Matchy
When there is a deadly virus outbreak, but you also want to match with your dog. 
It is a good thing they make masks for humans and dogs so you can twin with your pet for Instagram. #coronavirus. 
27. Protect Yourself From Coronavirus, But Make It Fashion
When you are trying to protect yourself from a deadly virus, but you also want your face covering to match your outfit.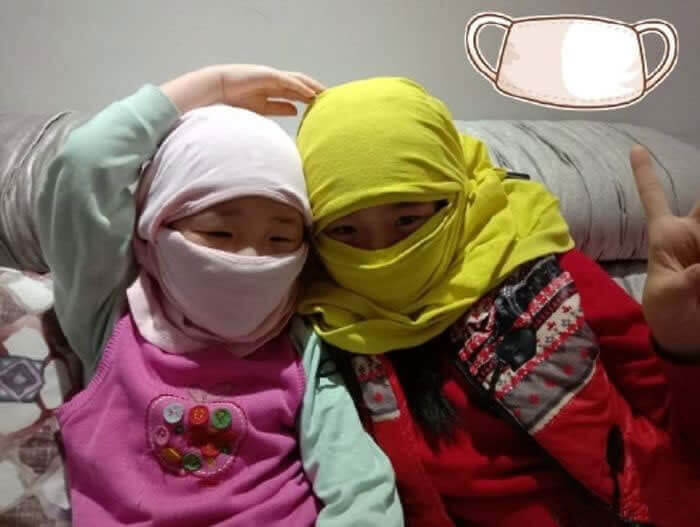 This must be what people are doing in place of not having available facemasks. 
28. Safety First
Planes are very dirty places because people are confined to a small space that does not have fresh air, so germs are being circulated throughout the flight. It makes sense why this person went for a full helmet to protect himself.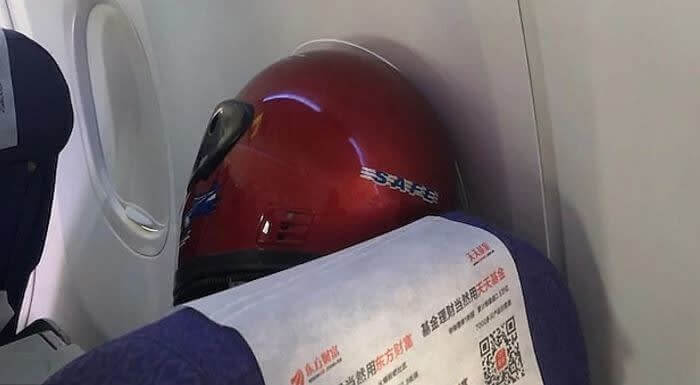 It is easier to get infected with any virus on a plane so be extra cautious when you are flying. 
29. Oranges Fix Everything
This is another man who is trusting the orange method. How he is breathing is a real mystery. Maybe he thinks that vitamin C will kill the virus. 
Who is telling these people that fruit will protect them? it is really unreasonable for them to think that is the way to solve their lack of face mask problem. 
30. What Is The Point?
Seriously? What is the point of wearing a face mask at all if you are going to poke a hole in it to smoke? Also, the cigarette is not helping your chances of living.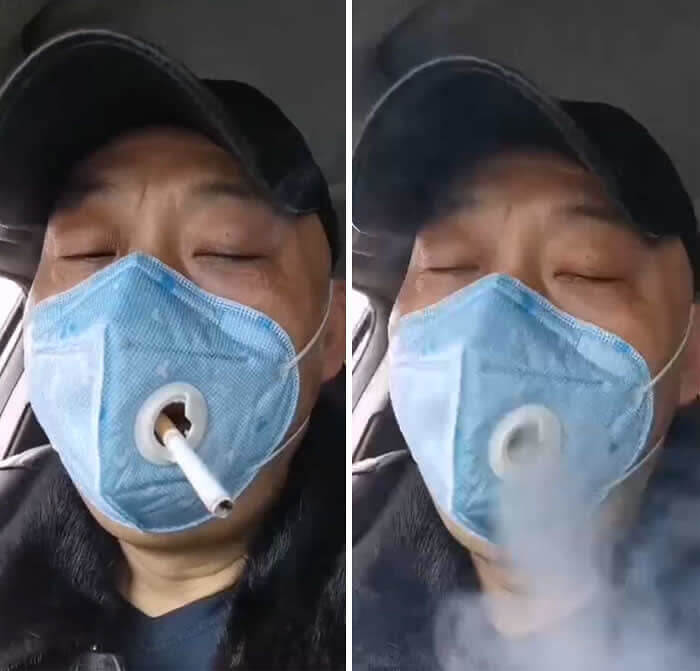 The virus attacks your respiratory system, and cigarettes weaken your respiratory system making you more susceptible to infection. This is all kinds of wrong. 
31. DIY King and Queen
This was probably an internet hack that they saw because of the lack of masks. It looks like these people are using some kind of large melon.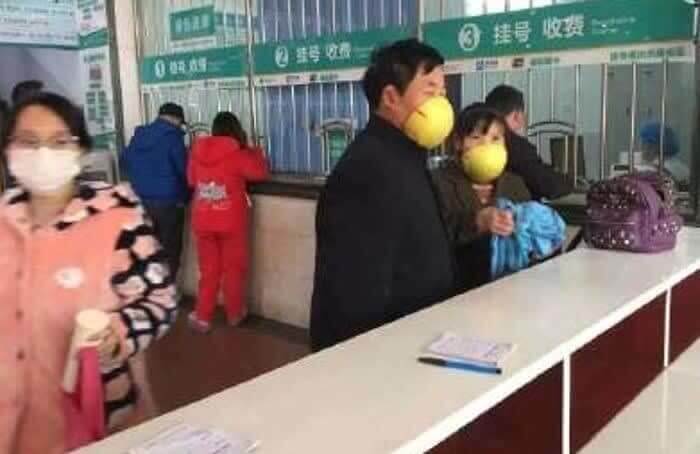 Come on, people! First of all, there is no way to breathe, and second, you are going to start attracting flies when this peel begins to rot. 
32. How Do You Breathe?
Imagine walking into a supermarket and seeing people walking around with containers on their heads. It seems like this has become the next plague.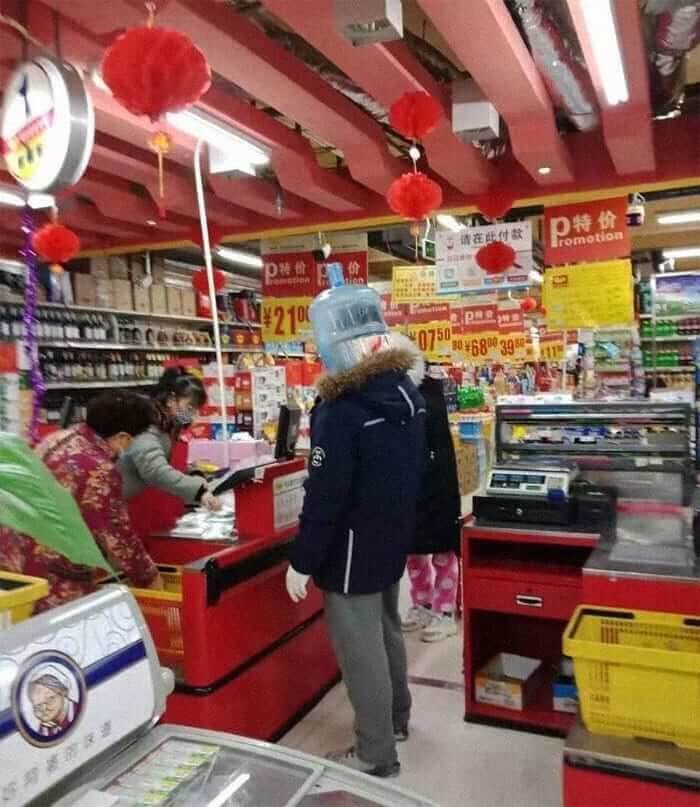 If there was a virus going around, would you trust the food in your supermarket to not be contaminated? Just throwing that out there. 
33. Is That Wrapping Paper?
We have so many questions with this one. How does she plan on seeing? Why is there wrapping paper on her head?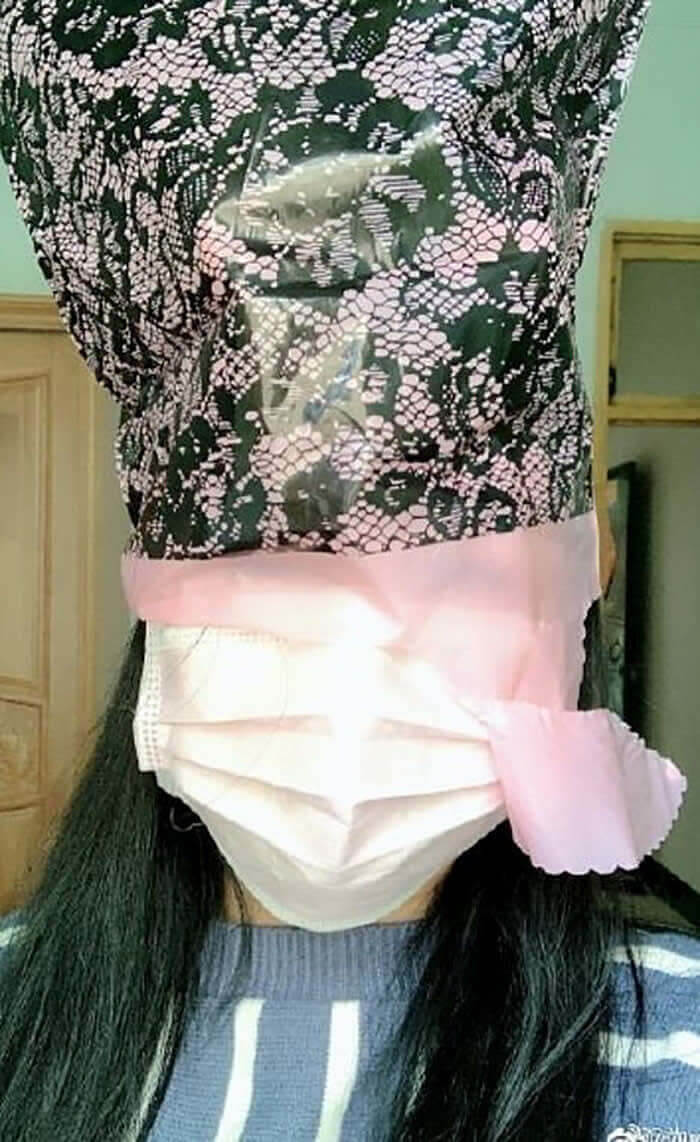 Also, who told her this would work? We want to talk to that person and find out what made them think of this idea. 
34. Would You Like Paper or Plastic?
All these people wearing plastic look like they went to a grocery store and grabbed the first plastic bag they saw to put over their heads. 
Growing up we were told never to put a plastic bag over our heads because you can't breathe, yet all these people are willingly doing just that. 
35. Cone Heads, Coronavirus Edition
This one was taken in Vancouver International Airport, not in China where the coronavirus is spreading rapidly. This person wanted to be extra cautious even in a country where there are very few cases.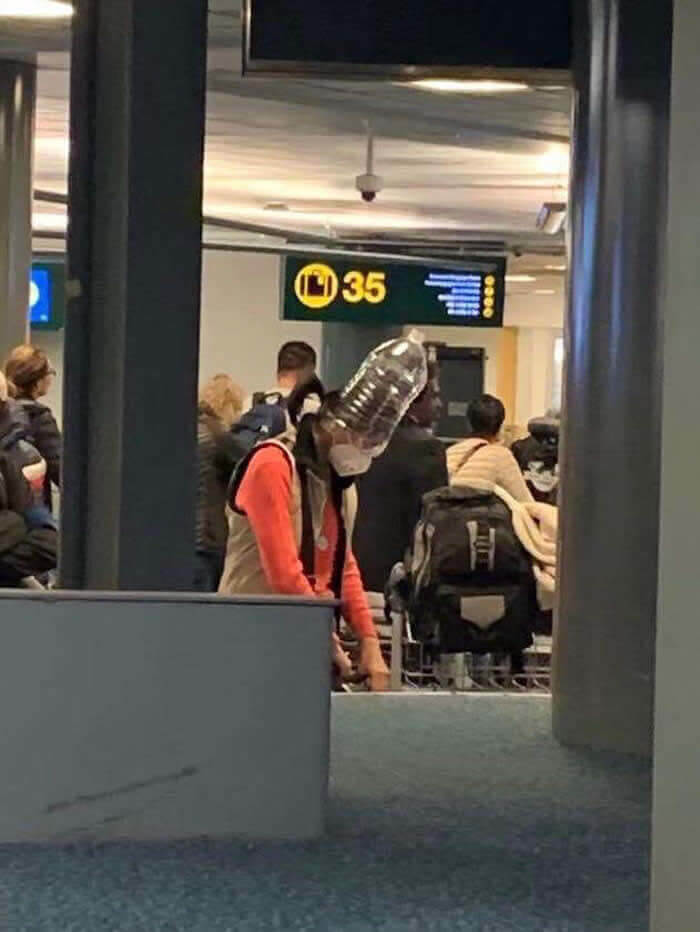 Seeing all these plastic water bottles is make us thirsty, what about you? 
36. This Is A Popular Style
How did this man get his head in there? It doesn't look like he cut a large hole out of the bottom.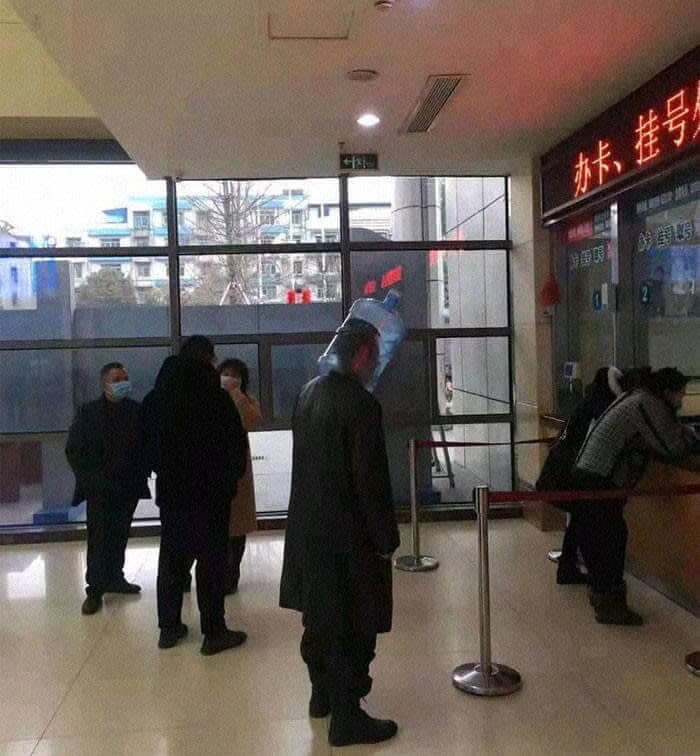 Is he even able to see? The plastic seems like it would significantly distort his vision. 
37. Pretty Ineffective
While we still don't know if oranges are an effective tactic to stop the virus from infecting you, this person is really not doing herself any favors.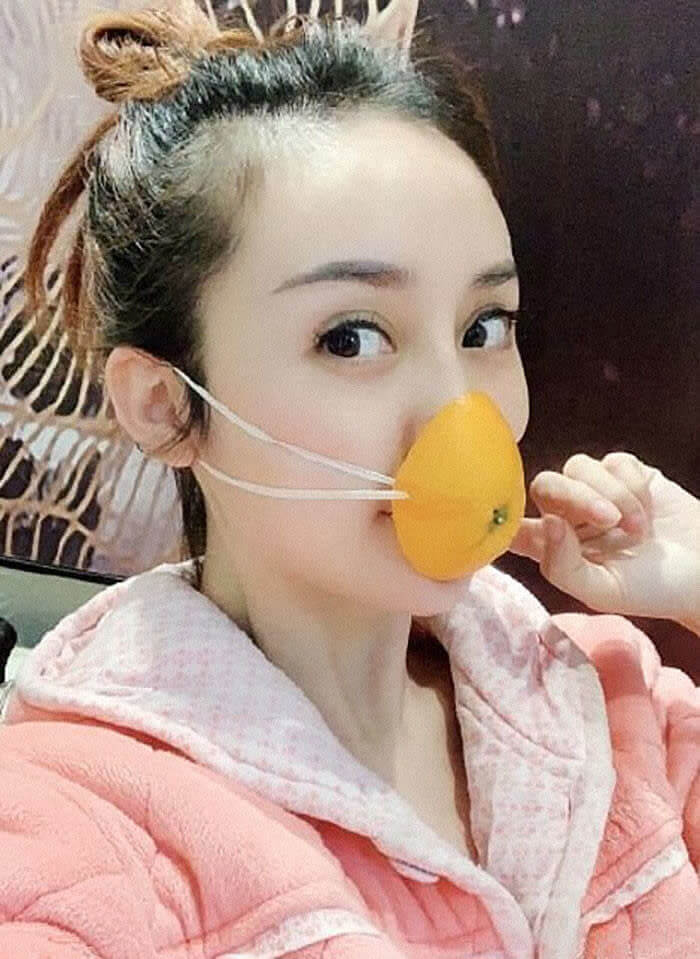 The orange barely fits over her nose and mouth which would allow germs to get in from the sides.